Despite a triumphant win over Big Ten powerhouse Maryland last week, there seems to be something weird going on at Nebraska. You see, following another loss to Wisconsin, Scott Frost had some interesting words about the leadership of his team. Many people overlooked this as just another excuse from Frost, something he has gotten very good at. It started with unathletic players, then moved to hooded sweatshirts, and even included lack of sleep. The excuse train never seems to end. But this quote really got me thinking:
Nebraska coach Scott Frost: "We still don't have leadership where we needed it to be."

The Huskers have good leaders, he said, mentioning offensive captains Matt Farniok and Adrian Martinez. But "a few pieces that are working against that" remain, according to Frost.

— Mitch Sherman (@mitchsherman) November 18, 2019
Uhhh excuse me, forces working against them?? Is someone, or something, undermining his program, forcing it to continue to be a bottom tier team in the Big Ten? It is my duty as a journalist to find the truth, and I am going to do just that. Who is hell-bent on ruining the good name of Scott Frost? WHO IS THE LEADER OF THE DEEP STATE???? Listen, I know Iowa and Nebraska are rivals, but they clearly need help and none of their beat writers are going to touch this story as they will end up in a ditch if they do. So here I go. Each suspect has received a score of 1-5 corn stalks, 1 is not the likely culprit, 5 being the most likely.
Mike Riley - Ex Nebraska Coach
Ah shucks, you really think a nice guy like Mikey Riley would want to tear down a football program? Sure, his career was cut down by Bill Moos and the Nebraska Athletic department way too early, but he has at least 6.6 million reasons not to care anymore. Mr. Riley doesn't really seem to care about anything other than making sure everyone has a good time and is properly hydrated. He is very clearly not the head of the DEEP STATE.
DEEP STATE LEADER PROBABILITY: -1 CORN STALK
HERBIE HUSKER - Official Mascot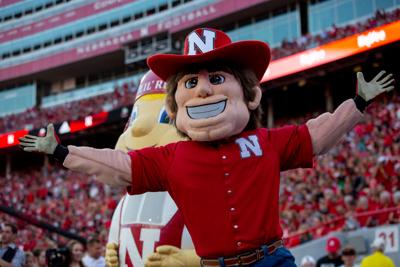 In 2003, the University of Nebraska unveiled a new, creepier version of their mascot Herbie Husker. Since then, Nebraska has won 0 (ZERO) conference championships. It seems a bit odd, doesn't it??? Does New Herbie actually hate Nebraska football? Obviously. Look at that face, WHAT KIND OF MONSTER CREATES SOMETHING THAT LOOKS LIKE THAT????
DEEP STATE LEADER PROBABILITY: 2 CORN STALKS
Hunter Biden - ?????
Yes, that is right, the same Hunter Biden that is at the center of the Ukraine scandal is now at the forefront of an even bigger story. Did you know that Hunter Biden once flew, on an airplane, OVER the state of Nebraska? Did you know that it HAS NEVER been proven that he didn't, at any point, LAND in Nebraska and accept SECRET payments of HUNDREDS OF THOUSANDS OF DOLLARS from ANTI-NEBRASKA FOOTBALL interest groups?? Did you know his staff REFUSED to answer questions for this article???? Makes you think….
DEEP STATE LEADER PROBABILITY: 2.5 CORN STALKS
John Cook - Nebraska Volleyball Coach
John Cook, the man many consider the greatest college volleyball coach in the country, has spent the last 20 years leading Nebraska volleyball. In that time he has compiled a record of 560-75 and won 5 national championships, which is impressive! But despite his overwhelming success, all the people of Lincoln seem to care about is the awful, terrible, no good football team. Cook constantly puts out a winning product and is repaid by having his team shoved to the back page of the sports section so that Scott Frost and Co. can cry about LEADERSHIP and HOODED SWEATSHIRTS on the front page. Strangely enough, the demise of the Nebraska football program aligns perfectly with Cook's time at Nebraska...hmm! He started 20 years ago, 20 years ago was the last time Nebraska football was relevant…Has this DEEP STATE to destroy Nebraska football been in place for two decades and Frost is just the first coach bold enough to call it out??? Is John Cook trying to take down the football program so that they turn Memorial Stadium into a 100,000 seat volleyball arena?? Bump, set, spike, we have found a PRIME suspect.
DEEP STATE LEADER PROBABILITY: 5 CORN STALKS
Tom Osborne - Ex Husker Coach, God of Nebraska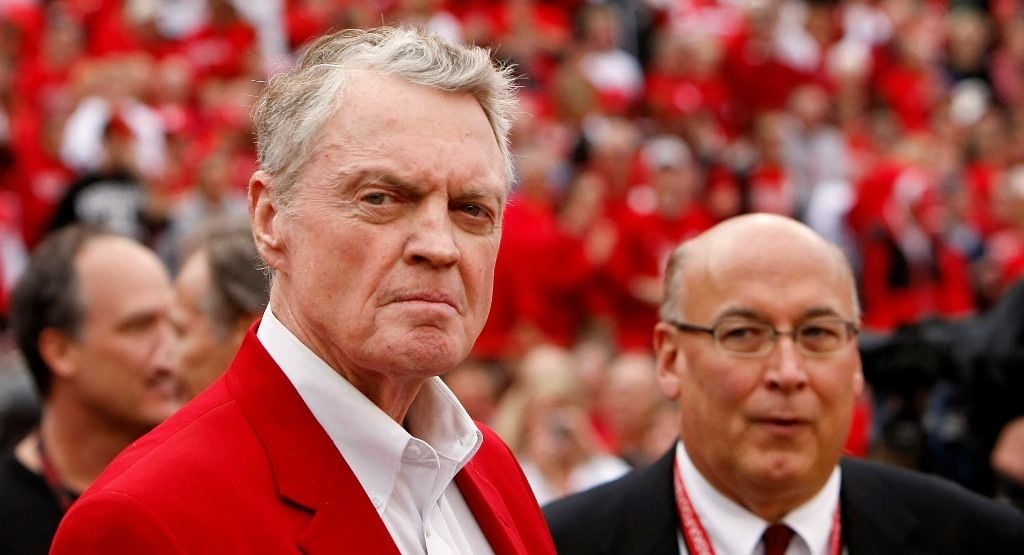 "Oh what a tangled web we weave, When first we practice to deceive" - Sir Walter Scott, 1808
I am on to you, Mr. Osborne. Is this the perfect crime? Old Tom Osborne, the greatest thing the State of Nebraska has ever produced, the man that brought the city of Lincoln championship after championship, star player after star player. The man who would do ANYTHING to win. Why would Tom Osborne want to tear down a program he helped build? WAKE UP SHEEPLE,  he is a selfish a-hole!
Do you think when Nick Saban leaves Alabama he is going to want to watch them succeed? NO. He is going to spend every single day hoping they stink. He wants EVERYONE to think that what he did was impossible. The worse Alabama does after he leaves, the better he looks. SAME EXACT THING WITH OSBORNE. He doesn't want ANYONE to match what he did, that is exactly why he worked so hard to get Bo Pelini fired. He knew Pelini was on the cusp of breaking through and put an end to it as soon as possible. Nice try Tom, YOU may have the entire state of Nebraska fooled, but not me!
DEEP STATE LEADER PROBABILITY: 4.5 CORN STALKS
**Authors note: As I am writing this in-depth expose, my nose has started to bleed and my head hurts very bad.  Have I opened doors that were meant to stay closed forever? Has the DEEP STATE poisoned my water for asking too many questions???
Matt Davison - Best Friend of Scott Frost
The former Nebraska football star whose only memorable moment was a "catch" that he made 22 years ago that was CLEARLY incomplete, is another top suspect. Since that play, Scott Frost's best friend/Husker radio broadcaster/assistant athletic director has worked his way right into the thick of Nebraska Athletics. But why is he a suspect?
While driving home from Thanksgiving during the 2014 Iowa vs Nebraska game, Matt Davison was having a complete mental breakdown on the radio about how bad the Huskers looked vs Iowa. It was weird. Why would anyone care this much??? Then it hit me, he was FAKING IT. Davison was doing his best acting in order to get Pelini fired so that his best buddy Scott could take over as the head coach. But his plan backfired as Mike Riley was hired instead. So Davison set up an internal team to tear down Riley, and after two years he succeeded. Riley was gone, Frost was in, and he had a spot in the Athletic Department. Unfortunately, he lost control of the beast that he had created, and the DEEP STATE kept running even after he tried to shut it down. The DEEP STATE he created to get his best friend hired is now running full steam ahead, working tirelessly against his buddy with no end in sight.
DEEP STATE LEADER PROBABILITY: 10 CORN STALKS
Do you have any additional ideas of who could be leading this DEEP STATE to tear down Scott Frost? Discuss in the comments.