The Hyball is a weekly Iowa men's basketball column
This was supposed to be the fun part.
Cusp of the Big Ten Tournament. Double byes. Opposite sides of the bracket. Selection Sunday and the NCAA tournament rapidly approaching.
I root for two teams playing winning basketball, racking up dubs in the greatest conference in all the land. Some of that sounds like opinion, so let's go with hard data. Iowa and Michigan, according to KenPom, are Top 4. Of 357.
Above Illinois and Ohio State and Kansas and Duke and North Carolina and Michigan State and Kentucky and UConn and Syracuse and Villanova and Wisconsin fuck Wisconsin.
Both sustained ankle injuries to starters in the last game of the regular season.
This is Go Iowa Awesome, so let's start with Iowa. Do I even need to tell you about Joe Wieskamp? We just did this last week. He's the team's second-best player and second-leading scorer.
Joe Wieskamp went 51-for-103 from three-point range in Big Ten Play.

That's ridiculous.

— David Eickholt (@DavidEickholt) March 10, 2021
/sigh
Him shooting 100% with 12 points in 12 minutes before going down made it feel even more like a sports movie cliche. He, somehow, hasn't been ruled out for the conference tourney.
"It is strictly the trainer and the doctor. Can he go? Sometimes you deal with is he 100 percent, is he 90, is he 80, is he 75? How does he feel? What does he want to do? So we'll wait and see," McCaffery said.

"If he feels really good, my anticipation will be to play him on Friday. We'll see how he does. If he's not at or near 100 percent, then we might hold him. We're going to do what's in the best interest of the student-athlete, bottom line."

Replacing Wieskamp's minutes, if it comes to that, will be "an all-hands-on-deck thing," McCaffery said, mentioning true freshmen Tony Perkins, Ahron Ulis and Kris Murray as players who could be called on. It certainly would mean more time for second-year players Patrick McCaffery and Joe Toussaint, who are already a part of the rotation.

Wieskamp has been durable, starting in all 93 games of his college career.
Eli Brooks is not Michigan's second best player, but he's a senior leader and one of their best defenders. Michigan lost three games this year, and two of those three were when Brooks was not on the floor.
This is how I'm now on the cusp of becoming a college football-level fatalist during what should be an extremely exciting juncture.
Quick, hit me with an Iowa stat that cheers us up:
Hawkeyes were preseason #5, end regular season at #5. https://t.co/R36eCUqbQs

— Chad Leistikow (@ChadLeistikow) March 8, 2021
Ha. Cool.
Most sports fans want their team's best effort at full strength; it makes any result easier to process. It kind of reminds me of the 2006 college football season. When No. 1 Ohio State came into Kinnick to face No. 13 Iowa. Frenzied scene, College GameDay was there, both teams 4-0.
And the Buckeyes fucked us alllll the way up. Troy Smith and Co. took that shit, 38-17. And as much as it sucked, it was definitive. Their better was better than our better, which left very little to say. If this Iowa team was going to run up against a Gonzaga buzzsaw -- or even someone earlier -- so be it... but let it be with all our guys. Please.
Ha, begging and bargaining. If this isn't college football, what the hell is?
The Hyball
"I love that which doesn't exist."
Last Week
3/4 - No. 5 Iowa 102, Nebraska 64: Ha, this score is even more impressive a week removed. We firebombed them.
I am greatly enjoying this basketball contest.

— Hawkeye Elvis (@HawkeyeElvis) March 5, 2021
At the end, I remember thinking "This was how I thought more of the season would go" before the announcers said Iowa had, like, 13 or so double-digit wins. Who knew? We seriously need to enjoy this more.
3/7 - No. 5 Iowa 73, No. 25 Wisconsin 73: This was a very good thing. Let's do some quick Keegan Murray appreciating.
Rewatching end of Iowas game against Wisconsin. Two biggest plays for Iowa mightve been Keegan Murray offensive boards.

One off Garza miss, down 69-65, to get putback & 3-point play.

Then off Connor miss FT, sets up Bohannon 3-3 FT to give Iowa 74-71 lead with < 1:00 left.

— Chad Leistikow (@ChadLeistikow) March 8, 2021
He slithered for that free throw one.
Saving the Davison stuff (of course) to instead discuss what went down immediately after.
No one will ever wear No. 55 again.

Iowa plans to retire @LukaG_55's number after the season. #Hawkeyes pic.twitter.com/Uj7gkE9JeU

— Iowa Basketball (@IowaHoops) March 7, 2021
Did this seem... really quick?
Ill never watch another iowa game in my life with the amount of disrespect that school has shown me and my family. Love the fans but Im in no way affiliated or connected to the university. https://t.co/8ylZg0iK4U

— Devyn Marble (@DevMarble) March 9, 2021
maaaaaaaaaaaaaaan
I know some progress has been made on the Marble front, but it felt like so much went down so fast, and it definitely had a stolen thunder element (not calling out Marble at all, more the athletic department). My plan is to let more happen here before diving in headfirst.
Speaking of buried stories...
. .@LukaG_55 on the way @GustafsonMeg10 inspired him with her work ethic, leadership, and talent.

So much respect fo you, Luka! | #Hawkeyes https://t.co/LfMIPsPu9d pic.twitter.com/VHOwM08MfJ

— Iowa Women's BBall (@IowaWBB) March 8, 2021
That's... that's the good shit.
This Week
3/10 (Wednesday) - Bye
3/11 (Thursday) - Bye
3/12 (Friday) - Wisconsin, projected: Davison's revenge?!?!?!
Saving the rest of this for the Ricky section.
Caitlin Corner
Me: Not talking about Caitlin Clark's awards anymore, only gonna focus on highlights
/Caitlin Clark wins even more awards
B1G Freshman of the Year
Unanimous First Team All-B1G honoree
Unanimous All-Freshman Team selection

And it's only the beginning for @CaitlinClark22! #Hawkeyes #FightForIowa pic.twitter.com/gKqiEqFrh3

— Iowa Women's BBall (@IowaWBB) March 8, 2021
Me: FINE
"Is Brad Davison A Senior"
And, to think, I thought Murray temporarily guarding our man would be the BD highlight of this one:
Keegan Murray switched on Brad Davison pic.twitter.com/B7mkDvDYoy

— Bobby L. (@bobbystompy) March 7, 2021
Nope.
You know the story by now: he did wild shit at the end, and they lost.
Hes so, so close to getting it. https://t.co/w12DAvvrP5

— Bobby L. (@bobbystompy) March 7, 2021
Gard, I have no time for. Iowa fans getting jokes off? I have all of the time for.
Ashes to ashes, buzz to buzz https://t.co/sHQPKoTz6Y

— WWF Hall of Famer Ivan Bologna (@PV_GIA) March 7, 2021
Maybe one that's a little more heated?
FUCK BRAD DAVISON

— Hawkeye Recruiting (@Iowa_Recruiting) March 7, 2021
Well then.
The Ballad Of Ricky-Bobby
Each week, we check in with professional basketball writer Ricky O'Donnell for a quick exchange
Asked our guy for some Big Ten tournament picks. Here is the bracket: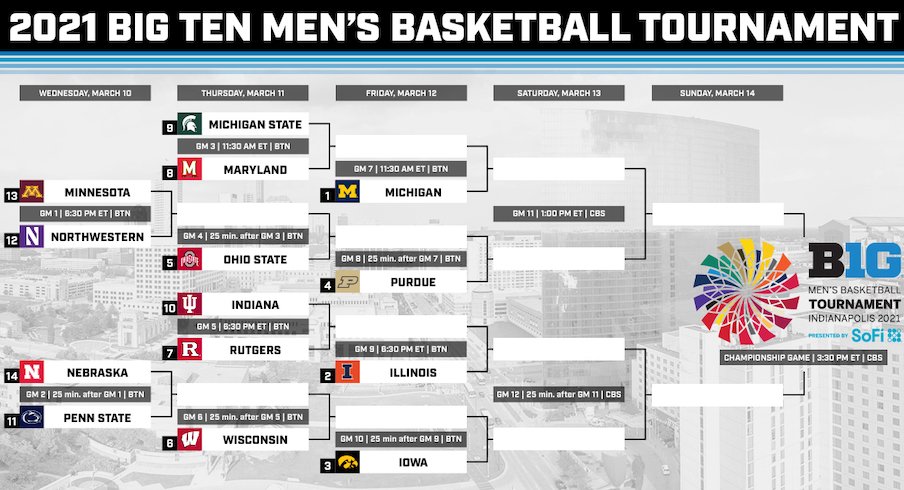 Ricky first:
Penn State over Neb, Minn over NW

MSU over Maryland, OSU over Min, Rutgers over Indiana, Wisconsin over Penn State

Michigan over MSU, Ohio State over Purdue, Illinois over Rutgers, Wisconsin over Iowa [ed- wait what]

Illinois over Wisconsin, Michigan over OSU

Illinois over Michigan
Sometimes, the obvious matchup in sports is too obvious. I'm shying completely away from the Illinois/Michigan collision course with a -- you guessed it -- Ohio State title run, baby!!!!!!!!!!11 Some of the early games happened before I could do my picks, so I'll jump straight to the semis:
Ohio State over Michigan, Iowa over Illinois
Ohio State over Iowa
/deeply clutches reverse jinx rosary
Obligatory Begrudging Michigan Illinois Section
Not sure how up to speed y'all are on the Illinois trying to retroactively claim a Big Ten regular season championship discussion, but I heavily encourage a full read of the AD's letter. It is very easy to dunk on them, but he wrote with level-headed clarity and explored a lot of the situation's nuance.
For the #EveryDayGuys #ILLINI https://t.co/OWnejgZRWF

— Josh Whitman (@IlliniAD) March 9, 2021
That said, the letter also included this line.
This is a decision that will resonate with our program for generations.
You're losing me, Josh! To make matters more annoying, homeboy voted on the win percentage rule -- twice.
Updated column:
AD Josh Whitman's letter ripping the B1G for not naming #Illini co-champs w/ Michigan raised some fair points. But Whitman voted with colleagues TWICE to go with win % to decide champions, as recently as Feb. 26. That wasn't in his letter.https://t.co/41ZE0dCy1i

— Shannon Ryan (@sryantribune) March 10, 2021
Late February?!?!?!?!?!? Michigan was already on their COVID pause then. This whole thing reeks of "Yeah, whatever is fine." Enter: Illinois beating Michigan 76-53 in Ann Arbor on March 2.
Wait, hold up!
I feel for Illinois. Historically, I've been a hater, but this team is undeniable, and I've really fallen in love with their players and style. When my teams crash out, there is probably a "Root For Illinois" post coming. (Ed. Note: Hard pass. -- Ross) But between the generations line and the late February second vote, it's getting harder to defen--
never seen an entire athletic department turn into a message board poster before https://t.co/4T9IeZJ15a

— mgoblog (@mgoblog) March 10, 2021
I can't be a part of this anymore.
This remains the funniest possible outcome and you can't convince me otherwise. https://t.co/dlaNjNSZIa

— Bryan Mac (@Bry_Mac) March 9, 2021
I don't know about "funniest", but...
March 10, 2021
OK, maybe funniest.
All of this dumb bullshit is giving me acid flashbacks to my incredibly misplaced hatred of the 2004-05 Illinois finals team. That team, in retrospect, was cool as hell. But the fans and culture were insane. It's very easy for haters to call out bandwagon fans as a team ascends. It happens in all pro and college sports with the majority of title runs, so it is definitely low hanging fruit. But there is something so unique about the way Illinois both bandwagons and plays the chip on their shoulder card. It's like being able to fly and breathe under water; you're supposed to only get one (shitty) superpower.
Asked my buddy Dom (the biggest Illinois fan I know) about the letter:
I like that (Whitman) made his case clearly against the Big Ten office/Warren rather than any other team or coach or AD. I would've been fine with or without it, but I'm seeing former and current players/coaches expression appreciation. So I'm fine with it.
Very well put. The letter makes a lot more sense through the AD prism of "You have to do this" vs. "You need to do this." College sports remain hilarious and weird.
Say it again: Illinois is mad that Michigan did not play Northwestern, Indiana and Penn State

— Maize n Brew (@MaizenBrew) March 11, 2021
Illinois marriage vows:

I, Josh Whitman, take thee to be my lawful wedded spouse, to have & to hold, for better & worse, for richer & poorer* til death do us part

*unless you win the lottery. Then I'm claiming it mine even through we agreed it would be yours. TWICE!

— Due# (@JDue51) March 11, 2021
The faux-controversy wasn't enough to stop the Wolverines from continuing to win people over:
I dont even watch college basketball but Juwan Howard really got Mich hooping. Stepped into that job effortlessly

— Devyn Marble (@DevMarble) March 8, 2021
Feeling quite seen.
Normalize dual fandom between Iowa and Michigan. https://t.co/3VhXjNa66j

— Bobby L. (@bobbystompy) March 10, 2021
...though I guess we now have to work on that Iowa part.
I'll give Ricky (as impartial as anyone we have involved in this) the last word:
I get the whining a little bit from Illinois' perspective just because you want a banner to hang so the season can be remembered forever. Like, if they lose in the Big Ten Tournament and don't make the Final Four, there's nothing in the arena that serves as a reminder of what they accomplished. With that being said, it always goes on win percentage and Whitman voted for it twice like you noted, haha. I can see how it gets extremely grating to other B1G fans. I think it's mostly just the 'us against the world' thing athletes do even when you're gonna be a no. 1 seed.
Haha.
The Mini-Hybrid
I think that just pinning your mood to something you absolutely cannot control is better for your brain than actually trying to figure out why youre really unhappy. Much easier to blame Jim Harbaugh than deal with my own insecurities https://t.co/FgDMJfPf0I

— Dan (@ThiccStauskas) March 10, 2021
Just smashing the nail on the head here.
Kick Me
Maybe I just need to see the bottoms, but it kinda seems like these retro Jordan 5s look a lot more ready for the sidewalk than the court.
Some times you just need some new kicks for postseason ... thanks @jumpman23 for the Retro 5s#GoBlue pic.twitter.com/zVvDNLmtgH

— Michigan Men's Basketball (@umichbball) March 9, 2021
Bill Walton's Western Civilization 
At prompting of Matt Muehlebach, Bill Walton gives a shout out to Arizona on Pac-12 Networks broadcast, saying he hopes things "get worked out" because UA fans "are the economic engine of the conference of champions."

— Bruce Pascoe (@BrucePascoe) March 11, 2021
How did he get me to feel warm and fuzzy about cheatin' ass Arizona?!
No Context College Basketball
Found this less funny and more beautiful:
March 10, 2021
This was more just funny:
March 10, 2021
Wrapping It Up...
Mood #BIG10CHAMPS pic.twitter.com/7usGD7F9PS

— Jace Howard (@jaceh0ward) March 5, 2021
/vows to start living life with this type of unbridled joy
Bobby Loesch is a weekly contributor to Go Iowa Awesome. Follow him on Twitter @bobbystompy or email to bobbyloesch [at] gmail.com.