We Really Missed Basketball
The Hyball is a weekly Iowa men's basketball column.
Basketball is back, baby.
That's right, a sport where Iowa can score triple digits in points. I want no others to exist. Ross already recapped the game, so if you are going to read anything, please just read that. But, as we are in the hunger point where the Truman State game qualifies as a meal, I am parachuting in with some additional takeage below.
Kris Murray: Already That Dude? Yes, players make leaps every year, and yes, Murray clearly has an NBA body and pedigree with his twin brother going Top 5 in the draft, but you still gotta see it after an offseason of just talking. And god damn, we are seeing it.
Incredible sequence by Iowas Kris Murray.. hits the 3, and then gets a steal and poster dunk next possession pic.twitter.com/uAn0bCpe2D

— T IGT (@itsAntWright) November 1, 2022
(already linked by Ross/don't care/too good)
What Ross didn't link was this wonderful exchange in the replies:


Hahaha.
But yeah, he looks the part. Inside-outside scorer, aggressive, and always, always smooth. Look at the confidence on this three:
Mhmmm.
Payton Sandfort: Also developing. Though some of us wanted Sandfort to start last year, it appears it actually is in the cards this season. Look, the shooting is definitely going to be there. He was 36.6% from 3 as a freshman and 93.8% at the line (!!!) -- small sample size sure, but it definitely passes the eye test. He put the ball on the deck a few times in this game, and so far, so good. Any uptick in ball handling, playmaking, or defense will be more than welcome.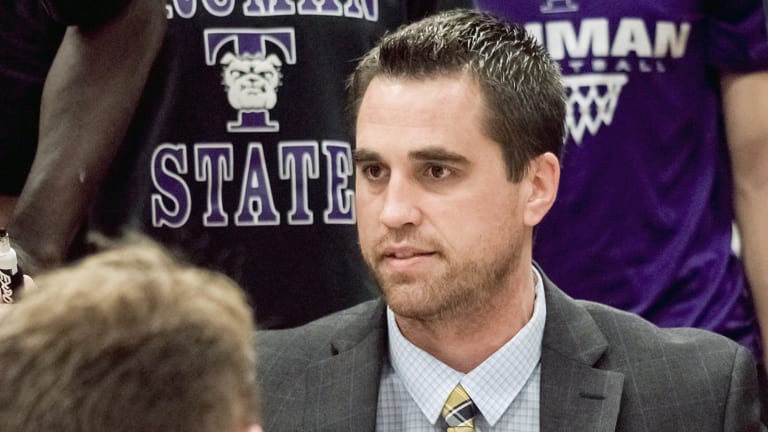 Zombie Josh Ogundele: If you weren't paying attention after this...
Thank you Iowa, for everything pic.twitter.com/fbpxPhmCGT

— Josh Ogundele (@damijosh2047) March 30, 2022
...you may have missed this.
Big s back pic.twitter.com/zvL5cMMKYC

— Josh Ogundele (@damijosh2047) April 28, 2022
What a wild month. So the good news is my dude is back. The bad? He... may never be in shape, ever. Like, ever. Still, if we are being optimistic, he is still a body in a team always needing size.
Big stay big.
Filip Rebrača: also back! Probably more significant is the return of Rebrača. After writing an ode to him in March -- a mere 13 days before the legendary Ogundele transfer tweet -- I now realize COVID years are just gonna be a thing until they're not. So yeah, he's also back, starting at the 5. The things we've always liked about him like toughness and semi-size will always be there, and he tends to feast against smaller opponents when he has that size advantage... but god damn, the free throws, man. He went 4-8 at the line with some brutal misses
Just part of the package at this point.
Tony Perkins... the new floor general?! I've always loved Tony Perkins and would never say no to more minutes for a player like him, but still, it was a little jarring to see him in the PG1 slot. The athletic upgrade over J-Bo could take me 27 games to calibrate.
Tony P pic.twitter.com/Vt0QmKeizh

— Jack W (@Jack__W__) November 1, 2022
(YES ROSS POSTED IT DON'T CARE)
But can he run the offense? Ross talked about it below:
Aside from Kris Murray, Iowa's other standout performer in this game was Tony Perkins. Perk started at point guard in this game, played as more of a combo guard, and looked damn good doing it. He had 18 points on 7/8 shooting, to go with 5 rebounds, and 4 assists. The most striking thing about Perkins' game was his confidence -- he pushed the ball on offense, was aggressive in attacking the basket, and was tenacious on defense.
Perkins averaged 0.7 assists in limited minutes two seasons ago. Last year, that climbed to 1.6 in a non-PG/non-starter 18 minutes a game role. Surely, it will climb further up this year... but what kind of number do we need to see in that spot? If we are cautiously hoping for somewhere in the five dimes zone, that would be the combined assist rate of Joe Touissant (3.2) and J-Bo (1.8) last year, so... actually doable?
Connor... shooting prowess?! Admittedly never been much of a Connor fan, because of, you know, shit like this:
Connor complaining his way out of playing fast break defense is next level, even for him. pic.twitter.com/mbTyU91UKl

— Bobby L. (@bobbystompy) March 7, 2021
But he was bombing last night. While 4-5 from three is a small sample size against a not-Big Ten opponent, it is here I remind you he put up a 20.7% as a sophomore and a 27.7% as a fourth-year senior. Now, I would've thought last year's fifth-year senior numbers were actually worse, but he rebounded from a bad slump and actually ended up at 33.8% for the season -- better than you thought, right?! If he can get closer to 40% as a sixth-year senior (ohhh, what a sentence), that plus coming off the bench could lend a steady hand to Iowa down the road when you also factor in his passing and -- /throws up in mouth -- veteran leadership.
Patrick: the true wildcard. I've always loved P-Mac's game, but, at the end of the day, the stats don't always back up the eyes. That said, he doubled his scoring from 5 PPG two seasons ago to 10 PPG last year, so if another leap is coming there, it is more than welcome.
Wheeeee.
The Dasonte Bowen assist.
Drool.
* * *
Overall: the surprising thing about this team is, a season after losing Iowa's best NBA prospect in decades, the ceiling of, you know, winning at least one game in the damn NCAA tournament is actually attainable. They will not be perfect, but I love the starting five and think it is going to be a lot, lot, lot of fun. And with football as the bar, they should be able to clear that standard blindfolded, backwards, and bare assed.
Bobby Loesch is a weekly contributor to Go Iowa Awesome. Follow him on Twitter @bobbystompy or email to bobbyloesch [at] gmail.com.