Well, we should probably address the elephant in the room. No, it is not that I said Iowa was really bad at football and then they played really good, I am wrong all of the time, so who cares about that. The elephant in the room is that last week we started the day 6-1!!!!! We were running so hot that many people were wondering if we had been infected with The Virus. Then, disaster. We closed out the day going 0-5. I don't know what happened, it was like a slow-motion train wreck. Everything went wrong. Rutgers kept scoring, PAC1-2 After Dark was awful, and I am sorry. The 6-6 record on the day takes us to 29-21-1. Not awful, but it should be better. Time to turn things around, and what better way to do that than with a FRIDAY NIGHT IOWA FOOTBALL GAME!!!
CLEAR EYES, FULL HEARTS, CAN'T LOSE FRIDAY NIGHT B1G TEN GAME OF THE WEEK
Iowa -3.5 @ Minnesota (6:00 PM CST, FS1)
Hell yes, Finally a Friday night football game where I am not betting on high school football (just kidding???)! Not only do we get a Friday night game this week, allowing us to do fun things on Saturday like rake leaves, but we also get a Friday night game FOR THE GREATEST TROPHY IN ALL OF SPORTS. Floyd of Rosedale is on the line in a game that THE ENTIRE WORLD will be watching.
Last weekend Iowa dominated Michigan State WITHOUT having to pass 50 times, crazy how that works! A lot of people have been asking me what was the difference in Iowa last week compared to the first two games? Why, all of the sudden, did they look so good? Here is your answer:
2nd time in as many weeks Tory Taylor (Iowa) earns our Best Punter Award in FBS Football.

Taylor pinned the Spartans inside the 11yd line five times setting @TheIowaHawkeyes up for a strong day on D & the win, 49-7.@IowaAwesome #Hawkeyes @HawkeyeReport @ProkickAus @faumbasport pic.twitter.com/yQx2nq9ewM

— FAU Jaffe Kicker & Punter Indexes (@FAUkickerpunter) November 11, 2020
BOW DOWN TO YOUR NEW LORD AND SAVIOR, TORY TAYLOR. This man is incredible, and thankfully it only took Kirk Ferentz and Co. two games to figure out their best offense is running the ball three times and then punting, because PUNTING. IS. WINNING.
After being VERY down on Iowa the last few weeks, WE love them in this game. I think they are going to blow Minnesota out (or, at least win by 7). Be warned though, Spread Awareness has not picked a Friday Night game correctly yet this season…actually…we haven't picked an Iowa game correctly yet either…..umm, TIME TO TURN THINGS AROUND, RIGHT?????
PICK: IOWA -3.5, OVER 55.5
BIG TEN GAMES OF THE WEEK
Penn State -3 @ Nebraska (11:00 AM CST, FS1)
This week, Scott Frost said now that Nebraska's defense is better, they can finally go "light speed" on offense.
Frost's comments about improvement on "D" were revealing in a big-picture sense.

"Part of the reason we haven't gone light speed (on offense) is we didn't want to leave the defense on the field that long."

Defense's improvement could turn up tempo offensively, he said.

— Steven M. Sipple (@HuskerExtraSip) November 9, 2020
If this sounds familiar, it is because Adam Gase, the head coach of the winless New York Jets, has basically said the same thing. Great minds think alike??
Adam Gase: Struggling Jets need to go on 'hyperdrive' to improve.

by @DWAZ73
https://t.co/1s3HXQ5szc

— AP NFL (@AP_NFL) September 22, 2020
I firmly believe Penn State has the talent to turn things around this season and at least be decent. They had a ton of turnover in their coaching staff/players, so struggles were expected, although they have been SO bad. On the other hand, Nebraska has very little talent. Their best player, Won'dale Robinson, got 2 touches last week and has been a non-factor all season. They also have two QBs that both refuse to throw the ball downfield and a coaching staff that is weirdly obsessed with throwing swing passes.
So, to summarize, Nebraska hasn't won a football game in over 350 days, and things won't change this week. Penn State wins setting up a showdown next week between Nebraska and Illinois to decide who will represent the Big Ten West in the 2020 OMG HOW ARE WE SO BAD? Big Ten Loser Bowl.
PICK: PENN STATE -3
#10 Indiana -7.5 @ Michigan State (11:00 AM CST, ABC)
THE TOP 10 INDIANA HOOSIERS WILL NOT STOP WINNING US MONEY. Seriously, all they do is cover. First half spread? They cover. Full game spread? They cover, ALWAYS! I love free money, and therefore, I love the Indiana Hoosiers.
Now, they get to play Michigan State, who, as Iowa showed, is terrible. BUT, we must be careful here because….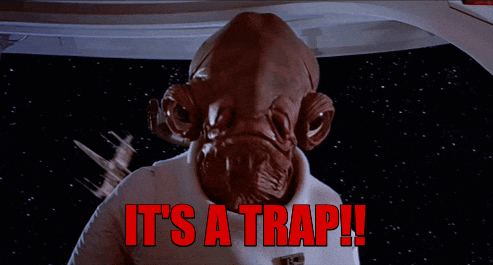 Next week Indiana has a date with #3 Ohio State, LOOK OUT FOR THAT TRAP! Luckily, Michigan State is so bad it won't matter, no trap is stopping Indiana this year.
PICK: INDIANA -4 1st half, INDIANA -7.5 GAME
Illinois @ Rutgers (12:00 PM CST, BTN)
DO NOT BET ON THIS GAME. Instead, take Notre Dame -13.5 vs Boston College.
#23 Northwestern -2.5 @ Purdue (4:00 PM CST, BTN)
THE GAME TO DECIDE THE BIG TEN WEST DIVISION CHAMPION, JUST LIKE EVERYONE IMAGINED BEFORE THE SEASON STARTED!!!! Sure, Wisconsin will probably win the division again, but how about you just calm down and enjoy this for a moment, okay? I, for one, am very excited for this game that will most definitely be an ugly, miserable mess. Rain is in the forecast and the high is 50 degrees, almost perfect Big Ten football weather.
Purdue wins this one, because why not?
PICK: PURDUE +2.5, UNDER 50.5
#13 Wisconsin -4.5 @ Michigan (6:30 PM CST, ABC)
After faking COVID numbers to avoid playing Nebraska, Wisconsin returns to the field against a Michigan team that went from being the best team in the Big Ten after Week 1 to maybe the worst team in the Big ten by Week 4. I have no idea if Wisconsin has been practicing at all, or how many of their starters are going to be out, but I still think they win this game by double digits.
PICK: WISCONSIN -2.5 FIRST HALF, WISCONSIN -4 GAME
PAC-12 AFTER DARK TRIPLE HEADER PARLAY OF THE CENTURY
Utah -2.5 @UCLA (9:30 PM CST, FOX)
CAL +3.5 VS Arizona State (9:30 PM CST, ESPN 2)
Washington -13.5 vs Oregon State (10:00 PM CST, FS1)
PARLAY NUMBER 1: UTAH -2.5, ASU -3.5, WASHINGTON -13.5

PARLAY NUMBER 2: UTAH VS UCLA OVER 59.5, ASU VS CAL UNDER 47, WASHINGTON VS OREGON STATE OVER 57
YTD Record: 29-21-1
ATS: 21-14-1
O/U: 8-7