The Hybrid is a weekly Big Ten football preview, plus relevant or whimsy games from the national slate
By now, you've probably seen eccentric Jim's grievances.
Jim Harbaugh was not pleased with Purdue's visitor locker room.

Listen to him explain the details. pic.twitter.com/s4fC894xWX

— ESPNU (@ESPNU) September 25, 2017
Yeah, Purdue did too.
Purdue's response to Harbaugh. I don't think Purdue is telling Harbaugh to stick it as much as it's telling him to cram it. pic.twitter.com/UIzIOuQJoh

— Marc Morehouse (@marcmorehouse) September 25, 2017
"In fact, eat shit."
In summation:
Jim Harbaugh to Purdue: "You guys should fix your stuff"

Purdue to Harbaugh: "We told you ahead of time it was crappy"

— Garrett Fishaw (@MGoFish) September 25, 2017
Forget college basketball, this really is the perfect college sports "scandal." No one is really right, no one is really wrong. Purdue could probably have better facilities. Maybe? I don't know. Michigan could also just deal with it. The real villain here is probably just the weather itself. If it weren't 90 degrees in September -- and Wilton Speight didn't get injured (unrelated) -- none of this would have probably happened.
But it did. My Michigan Twitter peeps got... a little deep divey:
Just a couple of things that I personally think Purdue needs to address. Strictly my observations from shooting the game Saturday. pic.twitter.com/XY8ma3uEUx

— Eric Upchurch (@EUpchurchPhoto) September 25, 2017
Purdue was like "what".
Good God. Michigan fans are breaking this down like the damn Zapurder film. https://t.co/2PVIb5jxuT

— Hammer & Rails (@HammerAndRails) September 26, 2017
Sparty Equipment Room, what say you?
Welcoming Iowa to the visiting side of Spartan Stadium this weekend. pic.twitter.com/OoAwZneCMX

— MSU Football EQ (@SpartanFB_eq) September 27, 2017
Well done, Sparty Equipment Room.
One thing is for sure: Purdue is probably the most humorless fanbase in the Big Ten, so this really couldn't have happened to a better (or worse?) school. They appear to be taking it in stride, though. I was also gonna check Boiled Sports to see their take, but, like, you know, those dudes are a little obtuse. My hope here is that the Boilermakers -- truly one of the fun stories in CFB this year -- can respond to this criticism from a crazy person with some wins going forward to wash it all away.
If not? Tucking t-shirts into jeans may never be the same.
Seriously, think about all of this more. Somewhere in what you just read, the Purdue locker room analysis drew comparisons to the JFK assassination tape. I didn't even blink -- this is a normal week in college football.
THE HYBRID
"Traveling is the antidote to ignorance."
I do think I could do this.
Great execution, everyone. pic.twitter.com/DUjGU04qVl

— Deadspin (@Deadspin) September 23, 2017
OK, let's go.
Thursday
Texas at Iowa State: Your boy is headed to Big D to see Jerry World this weekend. My plan is to buy the cheapest tickets possible before basically walking circles around the stadium, staring at that mammoth screen the whole time.
Also, Jerry Jones is a rube.
Miami (FL) (14) at Duke: My friend Paige is the biggest Miami fan I know. This week, I sent her some fine Pollyanna beer in the mail. Before doing so, I called FedEx:
Bobby: Is this location for drop offs, or do you have the stickers to mail packages as well?
FedEx: We can mail from this location. What are you sending?
Bobby: A package.
FedEx: Yes, but what is it?
Bobby (beginning to break): It's about 10 pounds.
FedEx: What is in the package?
Bobby (no ability at all to lie on the spot, completely defeated): Beer.
FedEx: We cannot ship beer, and most places these days can't either.
I ended up taking it to UPS, solely out of paranoia. That gave me time to prepare the lie (went with "books").
Nebraska at Illinois: I know y'all like to shit on Nebraska, but this Illini stat was too terrible to ignore.
Another historic streak about to come to an end.

Illinois' winning-streak will end at 2...tied for its longest since 2011.

— Chris Hassel (@Hassel_Chris) September 16, 2017
Seriously, how?
USC (5) at Washington State (16): Silver medal Game of the Week. As a spurned Wazzu fan with zero trust in this undefeated team, I can't say I dislike their chances against what appears to be an equally shaky USC squad. My prediction? USC blowout, Wazzu close, Wazzu big, USC close (in that order). I have learned never to count out a (healthy) Luke Falk, though.
Saturday
Northwestern at Wisconsin (10): We're not at all over Hornibrook's name right? It has the word "horny" kind of in it, you see.
/crickets
I'll see myself out.
South Florida (18) at East Carolina: 
Maryland at Minnesota: Man, this was the coolest shit.
THE TERPS SHOWED UP FOR GAME DAY

(: @totalfratmove) pic.twitter.com/BKL9SJvFqA

— SB Nation (@SBNation) September 23, 2017
Not to be outdone... Minnesota: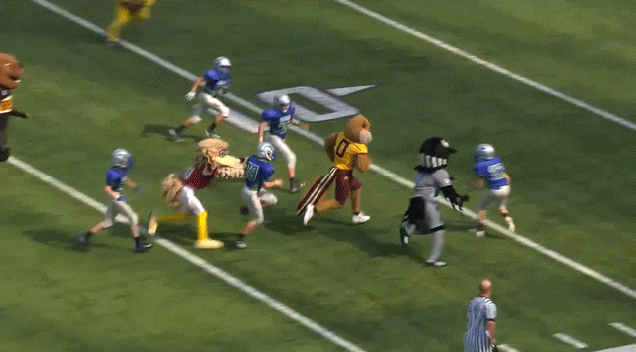 Not to be outdone, Maryland:
"This will mark the third year in a row and fourth time in six years that Maryland will start at least three QBs during the season." https://t.co/tUrPLzHwDm

— Dr. Saturday (@YahooDrSaturday) September 26, 2017
That is not how one-upping works, Terps.
Indiana at Penn State (4): Penn State is such an interesting mix of great and vulnerable. I fully believe in this team as a Playoff contender and three-loss candidate; it's not even disrespect -- just acknowledgement of this small spectrum of possible outcomes.
Not a mix of anything? This man.
Saquon Barkley is a robot pic.twitter.com/iGoYmV31k7

— Dr. Saturday (@YahooDrSaturday) September 24, 2017
That's 'cyborg god on earth' stuff.
Georgia (7) at Tennessee: Wait, Georgia is undefeated?
Murray State at Louisville (17): Finally. Finally, finally, finally.
Yall, we could be looking at a situation where our last memory of Rick Pitino at Louisville is of him in a skintight Lamar Jackson jersey. pic.twitter.com/v4NuK5zS7M

— Dr. Saturday (@YahooDrSaturday) September 27, 2017
What a legacy. As it pertains to Rick Pitino, I did not mince words on Twitter:
Cheating in college sports will always be very cool, but Pitino had this hypocrite/liar element that ruined the purity. Happy he's dead.

— Bobby L. (@bobbystompy) September 27, 2017
I say this as a Coach Cal guy. I don't mind good old fashioned strippers and laundered sneaker money, but Pitino was just such a shitbag. Cheated on his wife, didn't get fired, lied for the sake of lying, and generally represented the worst case scenario* for autonomy in college athletics. I'm happy Michigan handed him his last L.
Louisville taking a national title away from the Wolverines in 2013 absolutely factors into my opinion here, though. Whatever. He gone.
(* - non Penn State category)
Iowa at Michigan State: I actually had my girlfriend's bday dinner during the fourth quarter of Iowa-Penn State. My phone after featured notifications, commiserations, and even some texts from an unknown number. After seeing the replay of the final throw from the original broadcast angle, I was ready to settle into this serene, "real recognize realer" take about the game. Then Ross RT'd this:
Are you shitting me? pic.twitter.com/5M84bc41hC

— Due# (@JDue51) September 24, 2017
WHYYYYYYYYYYYYYYYYYYYYYYYYYYYYYYYYYYYYYY.
Even still,
/pretending to calm down
Even still, this has to be up there with some of the 'better' Iowa losses. I'm thinking somewhere in the vicinity of the Iowa-MSU Big Ten title game and the time backup Vandenberg almost beat tOSU on the road. Iowa moving up in the polls after losing only solidifies that point.
* * *
Meanwhile, this week.
Are you sure we're ready for Michigan's QB sneak offense?
Michigan State QB Brian Lewerke had a 52-yard run vs. Notre Dame... on a QB sneak! https://t.co/ZKnj0JBSR0 pic.twitter.com/rJYUpsJOA7

— Dr. Saturday (@YahooDrSaturday) September 24, 2017
I swear this only happened in video games previously.
Oh, and the over/under total stayed unchanged after last week's loss to Notre Dame.
Emrck68: 3
Shiftyz06: 4
Dip-Shit: 1
Calvin Poolidge: 6
Scratch Where It Itches: 6
MdHawkeye: 5
Xarin: 4
Captain America: 5
IowaPharmer: 5
Hollywood Hawk Hogan: 5.5
Miami (OH) at Notre Dame (22): This Brian Kelly celebration features some confusing ass behavior. Why does he turn his visor forward right after a player puts it on backwards? Is he really that much of a control freak? What is going on with the megaphone? Why does he seem like a CEO putting in novelty time with the mail room squad during the latter stages of a holiday party?
OMG LOOK AT BRIAN KELLY pic.twitter.com/Yo1U03cv5c

— Jack Jorgensen (@JackJorgensen14) September 24, 2017
Weirdo.
Mississippi State (24) at Auburn (13): Ehhh, I guess.
Ohio State (11) at Rutgers: 
These dudes are slapping fives mid route... pic.twitter.com/t22Dp2L1CL

— Tony Gerdeman (@TonyGerdeman) September 23, 2017
* * *
To be fair, so did the rest of us. https://t.co/3BJXR84l0n

— Matt Porter (@mattyports) September 22, 2017
Not high five.
Clemson (2) at Virginia Tech (12): Game of the Week. First go 'round belongs to the biggest Tigers fan I know, Clemson Tom:
Well, BC just wasted all their birthday wishes playing us last week, didn't they? I'll tip my cap to them, they hung around until about the fourth quarter. But then Kelly Bryant decided he wanted to play quarterback and hung some points on their sorry Yankee asses. Thanks for playing.

Now we have to travel to Blacksburg. Do you know what the hell a Hokie is? It's a castrated turkey. Turkey with no testicles. A turkey with no balls. How in the world do you decide to have a turkey that has been castrated as your mascot? What is this, a gender neutral mascot? ("We don't assume genders of our mascot".)

Geez.

I honestly think this game will be rather close. Virginia Tech actually cares about football, and I expect their student body to get really loud when we take the field.

Regardless of all that....do we spank 'em like we always do?

OHHHHHHH, HELL YEAH!!!

GETCHA SOME, VT!!! Y'ALL AIN'T 'BOUT THIS ACTION.

Stay blessed, and Go Tigers.
There he goes.
* * *
Lastly, Boise State and Virginia are off this week, so I tried to dump this into the Idaho section... but they're also off this week. So Virginia Tech, come on down for some potato awkwardness (seriously, stick with this the whole way through).
what pic.twitter.com/jESXOh2Ccn

— Deadspin (@Deadspin) September 23, 2017
Washington (6) at Oregon State: Do human beings seriously care about these Washington games? Will anyone here watch even one quarter? If the answer is yes, don't answer.
Oklahoma State (15) at Texas Tech: Well executed, well done.
Hes not wrong pic.twitter.com/oBHv3yVf21

— College GameDay (@CollegeGameDay) September 23, 2017
But the loss last week all but destroys punter Zach Sinor's Heisman campaign.
Ole Miss at Alabama (1): Well, it only took a year for Ole Miss to fall off the face of the earth. This used to be, like, the one fun early conference Alabama game. But no, we can't even have that anymore.
Northern Illinois at San Diego State (19): 
Wrapping It Up...
Y'all. We can never, ever lose if this stays tradition.
Chills every time. pic.twitter.com/pwC8qYORE6

— ESPN (@espn) September 24, 2017
Bobby Loesch is a weekly contributor to Go Iowa Awesome. Follow him on Twitter @bobbystompy or email to bobbyloesch [at] gmail.com.