The Hybrid is a weekly Big Ten football preview, plus relevant or whimsy games from the national slate
This was just... thee best.
BAH GAWD KING pic.twitter.com/0krteUClKd

— Deadspin (@Deadspin) October 21, 2017
Have some.
Other than that and a Wazzu win, not a lot made me happy in college football last week. Iowa did Iowa things. Michigan cliff dove like they always do. But one good thing did occur. After finding out Montana Tech won 93-19 (!!!) via ESPN, I expressed desire to be a part of something great.
I just want to root for whatever this team is and be happy.

— Bobby L. (@bobbystompy) October 22, 2017
Shortly after, their very gracious O-line coach reached out:
Well its @MonTechFootball #RollDiggs

— Ryan McFadden (@CoachMcFadden) October 22, 2017
Roll Diggs? Is this team the coolest in the world?
Tell me yall actually say Roll Diggs, and Im in forever.

— Bobby L. (@bobbystompy) October 22, 2017
Indeed.
All the time!
D-line coach @coachgarcia57 is from Chicago too
We like when the fan base grows#RollDiggs

— Ryan McFadden (@CoachMcFadden) October 22, 2017
Chicago, stand up. Montana, stand up. We might have something here.
October 22, 2017
We definitely have something here.
Welcome sir

— Baylee Reighard (@bayroo23) October 22, 2017
These are my people. Inviting, real. All I ever got from Michigan fans was "Did you go here?"
Roll Damn Digs https://t.co/ZqBcRODZxB

— Kolby kansala (@23Kolby) October 24, 2017
They even do the damn. One love to Butte, Montana.
Me; adrift, prior to all this: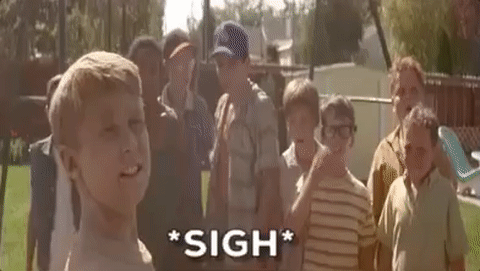 The Hybrid
"In one sense, the story of human history is just people inventing progressively more advanced ways in which to be awful idiots, in groups."
Thursday
Stanford (20) at Oregon State: Stanford retained the Chocolate Milk Title Belt vs. Oregon, but... so much more happened.
- Kevin Hogan started an NFL game
Refs shoudnt be able2 call intentonal grounding on Kevin Hogan since hes not accurate enough 2 hit the ground if he tried pic.twitter.com/YXhIyPT6R9

— PFTCommenter (@PFTCommenter) October 15, 2017
...it didn't go great.
- A rabbit invaded the field and showed more explosion on offense than we've seen from the Cardinal -- /shudder -- in years
The commentators calling the TD & stats of the rabbit who went on the field of the Oregon-Stanford game has me dying pic.twitter.com/zDRDHryyBe

— #TeamAnnette (@AnnetteReid24) October 15, 2017
/remembers the Iowa-Stanford Rose Bowl
...forget that joke
- Someone put together a gallery of coaches with Gundy mullets
Please enjoy this gallery of what it would look like if every college football coach had Mike Gundy's hair: https://t.co/sROOI2FiHC pic.twitter.com/HAbj0jTYq5

— Deadspin (@Deadspin) October 21, 2017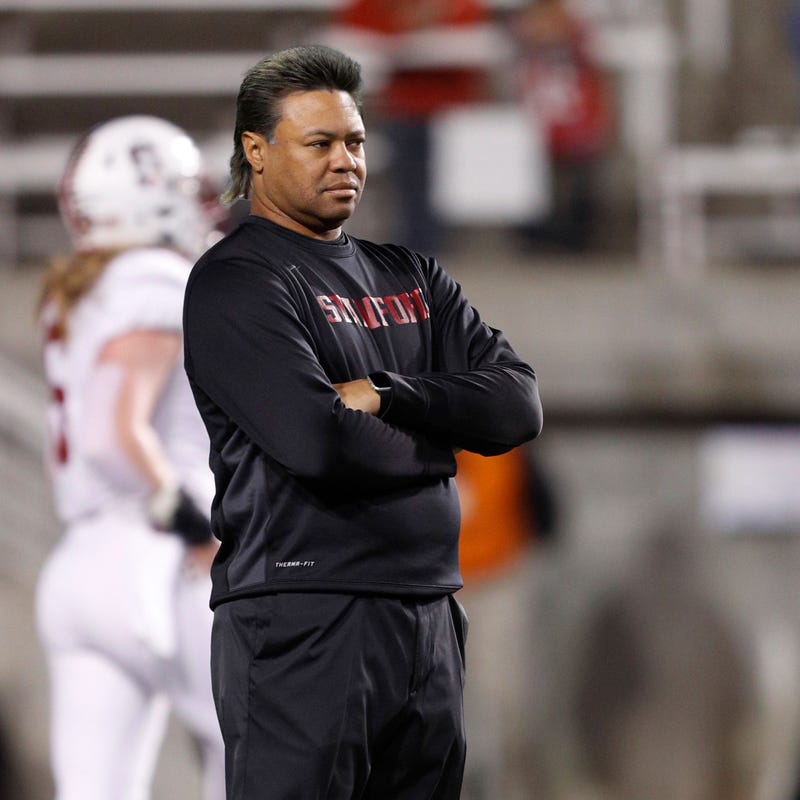 Ba-hahahahahaha.
Florida State at Boston College: What was your plan, Jimbo? How did you really see this going?
Jimbo Fisher just got into it with a fan who yelled get new coaches. Fisher said walk your a down here and say it.

— Garry Smits (@gsmitter) October 21, 2017
Saturday
Wisconsin (5) at Illinois: Turns out Mikey's injury *is* a knee but *isn't* season-ending. Get well, 18. Wish you were around to make Sconnie sweat.
Miami (FL) (8) at North Carolina: I'm about done using "(FL)" to specify The U . From now on, in this column, Miami = Miami (FL) and Miami (OH) = Miami (OH), got it?
Miami (8) at North Carolina: Oh man, they look so naked. Now I'm not so sure... what does everyone else think?
/insecurely crumbles
Oklahoma State (11) at West Virginia (22): Stay frosty, Okie State.
Give me your lunch money pic.twitter.com/2Zu4OBgzCa

— Barstool WVU (@WVUBarstool) October 22, 2017
Rutgers at Michigan: The banana boys. This... isn't even a team anymore. Last week, we...
- Nearly killed a photographer
Here's the shot before I got run over!! @MichiganOnBTN pic.twitter.com/IQrouuYAS9

— samii (@samiihandstandi) October 22, 2017
- Got gashed
Penn State ran all over Michigan in this @CapitalOne Recap. pic.twitter.com/AfbEIbV58g

— ESPN CollegeFootball (@ESPNCFB) October 22, 2017
- Got heated
Former Penn State commit Lavert Hill was not a fan of the White Out. pic.twitter.com/WZpx8kQxuw

— Onward State (@OnwardState) October 22, 2017
- Got emo
Lots of positivity in Ann Arbor #MICHvsPSU pic.twitter.com/IbBoFYPNlx

— RedditCFB (@RedditCFB) October 22, 2017
- Got... something
The durably optimistic UM fans can look to improved offense, youngest team in nation, and...something.

— John U. Bacon (@Johnubacon) October 22, 2017
- Ran some shit ass routes
These route concepts are garbage.
Bringimg 2 receivers to the same point 20 yards downfield is dumb.

WTF? pic.twitter.com/UZOjm5sT5D

— Due# (@JDue51) October 22, 2017
- Got punned
Woe, Blue.

— Ben Rothenberg (@BenRothenberg) October 21, 2017
...but worry not. The homie Bryan Mac has a solution.
My wife loves when Michigan loses. Not cause she's a hater, but because I take out my frustration with home repair and woodworking stuff.

— Bryan Mac (@Bry_Mac) October 22, 2017
Yeah?
Speight's injury got her a new wine rack and built-in shelving in the kids' closets. At this rate, November could mean a new dining room set

— Bryan Mac (@Bry_Mac) October 22, 2017
Hmm...
I'm just saying, put your frustration to constructive use.

And sober up before you use any tools that can remove your fingers. pic.twitter.com/uzoEdlY86V

— Bryan Mac (@Bry_Mac) October 22, 2017
Sober? No.
Arkansas at Ole Miss: Foooooooooooooooooore.
ICYMI | @tberrygolf proved to be the most versatile @NCAA Champion after knocking one through the uprights during the @OleMissFB game pic.twitter.com/SnEoCUdIxN

— Ole Miss Men's Golf (@OleMissMGolf) October 22, 2017
Louisville at Wake Forest: I liked this.
The Wake Forest qb was just eating sour patch kids pic.twitter.com/hv1MLImNGP

— Ian Murphy (@IanFromIowa) October 22, 2017
Livin' that SPK life, just like my pre-diabetic former roommate Jeremy Papp does.
Kansas State at Kansas: Pick pick pick.
This Kansas State interception was tremendous: https://t.co/FiPVoKbbyQ pic.twitter.com/EYwnNrUAWo

— Dr. Saturday (@YahooDrSaturday) October 22, 2017
Penn State (2) at Ohio State (6): Game of the Week. Fuck these teams; they've brought me nothing but pain.
Today is a great opportunity for Penn State fans to show they're really not how they're perceived outside of State Col- pic.twitter.com/yuhvrs5WnN

— SportsPickle (@sportspickle) October 21, 2017
Seriously, die for a while.
When not doing things like that, the Nittany Lions can be flashy and cool, like when they basically played pickup basketball last week.
McSorley got dunked on pic.twitter.com/uUdTaW0FPG

— CFB Gif'er (@CFBgifer) October 22, 2017
Euro step (via @GarretBreck) #WhiteBballSuccess pic.twitter.com/nalslS6Pst

— White Bball Pains (@WhiteBballPains) October 22, 2017
We seriously got Euro stepped. I can't even be mad. Euro steps are divine.
It is, however, safe to say the Penn State heads are starting to swell just a little bit.
"We want Bama!" pic.twitter.com/nuWyJiZX7p

— Onward State (@OnwardState) October 22, 2017
Let's all remember this moment.
This always ends well https://t.co/7DFRVvUuJU

— Dr. Saturday (@YahooDrSaturday) October 22, 2017
Seriously, have we all learned nothing?
Youthful enthusiasm is great, but last two B10 playoff teams lost by a combined 69-0. Michigan is Michigan. Alabama is Alabama. https://t.co/XILXXqQBQ6

— Dan Wetzel (@DanWetzel) October 22, 2017
Michigan is Michigan.
Lastly, new meaning to the White Out here:
Penn State plays both Sweet Caroline AND Wagon Wheel, I am going to the White People's Meeting this week and seeing if that's even legal

— BUM CHILLIPS (@edsbs) October 22, 2017
In final conclusion...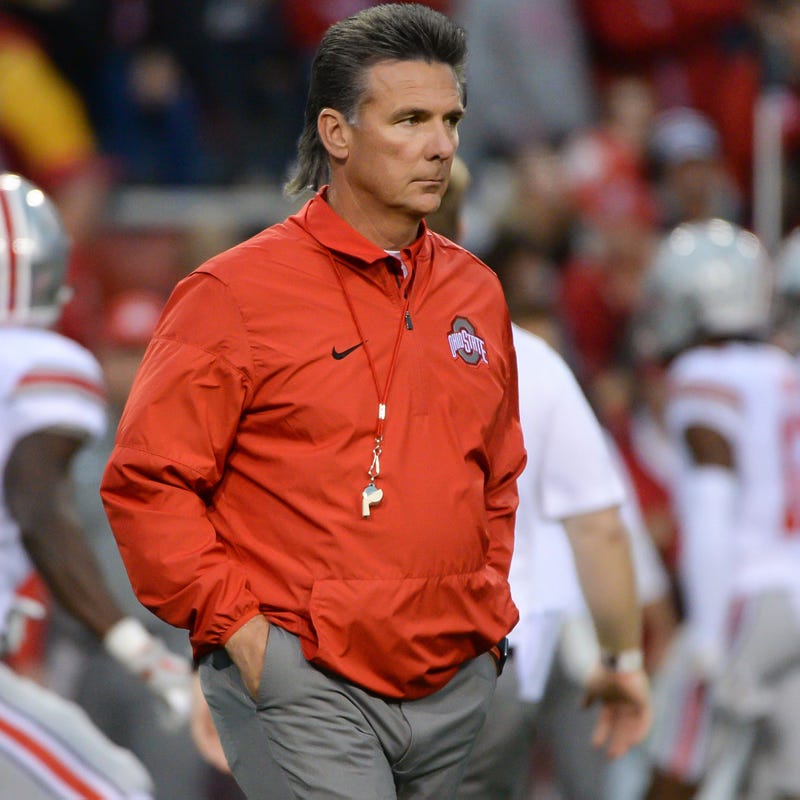 Hahaha. Too bad the famous pizza pic didn't have a more profile-y shot. Woulda been a prime mullet target. You know... it actually could've worked.
Georgia (3) at Florida: Very impressive, still not Leonard.
Sony Michel is not to be taken lightly. pic.twitter.com/1KsYNBoO9O

— Deadspin (@Deadspin) October 15, 2017
TCU (4) at Iowa State (25): I, for one, choose not to be bitter about Iowa State's ranking, but you probably expected that. Come on, though -- where do you really think this is all going? It's over after this week. And if this isn't the end? Holy shit.
NC State (14) at Notre Dame (9): Why no, I am *not* interested in your "This ND team is underrated and kinda likable!" narrative. Are we just... supposed to forget Brian Kelly exists?
FINAL: Notre Dame 49, USC 14.#GoIrish pic.twitter.com/6bThwzcKb1

— Notre Dame Football (@NDFootball) October 22, 2017
OK, that is a compelling case.
Michigan State (16) at Northwestern: The Sparty win train rolls on at 14 miles per hour. Not sure what to say at this point. They'll be No. 1 in the country soon. They have nearly as many wins as LJ Scott traffic offenses.
MSU's LJ Scott arrested, faces 7th driving charge via @ChrisHaxel https://t.co/tG4KnFpb1G

— Chris Solari (@chrissolari) October 19, 2017
Emrck68: 3
Shiftyz06: 4
Dip-Shit: 1
Calvin Poolidge: 6
Scratch Where It Itches: 6
MdHawkeye: 5
Xarin: 4
Captain America: 5
IowaPharmer: 5
Hollywood Hawk Hogan: 5.5
Well, you all (likely) lose.
middle finger-lickin' good pic.twitter.com/zi9CPF77zr

— Deadspin (@Deadspin) October 21, 2017
Cya.
Indiana at Maryland: Indiana, you used to be cool and chaotic. Now all you do is get close to beating Ohio State and Michigan State before turning into big, dumb pumpkins.
Houston at South Florida (17): Final birds, promise.
Goodnight. pic.twitter.com/28nHUS7sEf

— Deadspin (@Deadspin) October 20, 2017
Austin Peay at UCF (18): Man, these directional Florida teams better not blow that potential end-of-the-season undefeateds game. Also, totally forgot Scott Frost was the UCF coach until this week; pretty cool. I was always more of a USF man myself, but that was based on pretty much nothing except when they were Top 2, like, a decade ago. So let's pick a side. Are we UCF people or USF folks? Being a Montana Tech fan, that state is so far from my school, it's like a different country.
Speaking of...
Montana Tech at Rocky Mountain College: Can't imagine my Diggs putting up 90+ again, but hopefully we can keep the momentum going on offense. ROLL GOD DAMN DIGGS.
Minnesota at Iowa: Not sure the black and gold ravens can beat the Night King.
Winter is coming. #GoldyHalloween pic.twitter.com/F4eSRvJtW6

— Goldy Gopher (@GoldytheGopher) October 21, 2017
Also, being from South Naperville... I'm good with this.
Iowa is Naperville's B1G team. https://t.co/J3IqAxOm3A

— Ben Schuff (@BRSchuff) October 21, 2017
(Iowa was the most attended out-of-state university from my high school.)
Tennessee at Kentucky: Lied.
Buddy, your team's down 28-7. pic.twitter.com/qwWU3KHux6

— Deadspin (@Deadspin) October 21, 2017
Really lied.
Hang it in a museum pic.twitter.com/gGg2T77gv3

— [Escort 69] (@BunkiePerkins) October 23, 2017
Nebraska at Purdue: It's been two weeks now, but I know GIA is typically a safe space for Nebraska failure content. These come post-Ohio State.
- There was the dude who couldn't make out
THANKS A LOT OHIO STATE. YOU KEPT THIS POOR YOUNG MAN FROM GETTING TO MAKE OUThttps://t.co/w515pIy1uj pic.twitter.com/3otwb6kpcp

— Matt Brown (@MattSBN) October 15, 2017
- The sarcastic balloon launch
"sarcastic balloon launch"
what a sport https://t.co/QH4KTFj8Ey

— mgoblog (@mgoblog) October 15, 2017
- And the sobering statistic
There's an interesting #OSUvsNEB historical stat for you: pic.twitter.com/PEgc5wPnaP

— RedditCFB (@RedditCFB) October 15, 2017
That's a "go home forever"-type of thing.
Georgia Tech at Clemson (7): 
when youre hiding some clemson behind ur back and somebody asks to see it pic.twitter.com/Lx3MmxLHKc

— Nat (@LeftAtLondon) April 21, 2017
Speaking of hiding, no Clemson Tom this week. Was gonna reach out, but he had to put his pup down a couple days ago, so I left it alone. We'll get him back soon.
UPDATE: Our man is here and of course plays hurt.
Thank God we had a bye week. Kelly Bryant still has somewhat of an injured ankle, but we definitely are going to need him if we're going to make a Playoff push. This week, our Tigers take on the Yellow Jackets. I dislike Georgia Tech because of their 1930s offense, but I really dislike Paul Johnson's face.

This time around, Georgia Tech has a QB that can apparently do their quadruple option the way it's supposed to be run. I hope our D-line obliterates that crappy style of an offense.

As a fanbase, we really need to blowout Georgia Tech and get our swagger back. That 'Cuse loss really took the wind out of our sails. I will always tip my hat to Syracuse for them beating us the way they did. However, we got to get a little bit of piss and vinegar back in our bloodstream. We need to go out there and beat somebody's ass just because.

If you're not ready to go out and punch somebody in the mouth, don't put on that orange jersey.
Texas Tech at Oklahoma (10): Meh.
Washington State (15) at Arizona: Wazzu took us to some rainy places last week, man. I was in Indy, so watching the game in EST with an 11:45 p.m. kickoff felt like a borderline dream. This was probably the most normal thing...
Mike Leach is talking about 20-something goths hanging out in a graveyard on his walk to work. #Pac12AfterDark

— Matt Hinton (@MattRHinton) October 22, 2017
Then some halftime Homecoming racin'.
Just #Pac12AfterDark things in Pullman pic.twitter.com/sNJy6aygaV

— RedditCFB (@RedditCFB) October 22, 2017
Then Leach made the O do up downs -- not push ups -- because they went three-and-out on two straight drives.
Mike Leach made his whole offense do pushups.

Wazzu is winning 21-0 at the end of the third. pic.twitter.com/pRXWDU9NJe

— Dr. Saturday (@YahooDrSaturday) October 22, 2017
Then some real offensive futility from Colorado (albiet in a rain storm).
Perhaps the most amazing stat from last night: Colorado ran 34 of its 74 plays in Washington State territory and failed to score. Gained a total of 46 yards on those 34 plays. #cubuffs Second-most amazing stat might be CU going 1-for-17 on third downs.

— Brian Howell (@BrianHowell33) October 22, 2017
Then PJ Kendall drank beer because PJ Kendall drinks beers.
2:20am, 7-1 victory beer. I've got a problem. Don't send help. #GoCougs pic.twitter.com/xAwDHoZgS0

— PJ Kendall (@Deathby105) October 22, 2017
Also I miss RichRod.
My favorite part of RichRod's presser - his discussion of Khalil Tate's bad moments vs. good moments which included RichRod's sultry voice: pic.twitter.com/00E9jFlMcH

— Ari Alexander (@AriA1exander) October 24, 2017
USC (21) at Arizona State: /ponder emoji
USC this seems bad because you're not the team with the 190 pic.twitter.com/3vmQ1XPtZM

— BUM CHILLIPS (@edsbs) October 22, 2017
Wrapping It Up...
Mike Leach (sans context): If I was a dictator wed force everyone to play soccer until 9th grade.

— Lindsay Joy (@SWXLindsayJoy) October 23, 2017
What a weird ass season.
Hit me -- Street Fighter-style -- with your college football questions for this week's #DearAndy. pic.twitter.com/zGriNOlRZN

— Andy Staples (@Andy_Staples) October 24, 2017
For real.
Bobby Loesch is a weekly contributor to Go Iowa Awesome. Follow him on Twitter @bobbystompy or email to bobbyloesch [at] gmail.com.