The Hybrid is a weekly Big Ten football preview, plus relevant or whimsy games from the national slate
So... how we all doing?
Big Ten teams lost 7 nonconference games against unranked opponents Saturday, the conference's most such losses in a single day since the AP Poll debuted in 1936.

— Jason Starrett (@starrettjason) September 16, 2018
/snorts tweet
I mean, aren't we marching to inevitable death anyway? We are, you say?
From #CFB macro POV, the downer of 1st 3 weeks: stronger than ever sense that a VERY small number of teams look capable of winning the #CFP trophy. Lack of fresh blood & regional diversity is never ideal. Our version of Warriors v Cavs. But hey, somebody step up, prove me wrong!

— Chris Fowler (@cbfowler) September 16, 2018
I've railed on conference pride not mattering for years and years, and though I'm sure there are detractors or traditionalists, what do these people do when there's nothing to have pride about? Join me. Join us. The Big Ten is stupid, Iowa rules, and yes, Iowa plays in the Big Ten, but Iowa is its own thing. Do you want to roll with Noah Fant or Jim Delany?
Because combining them does not work.
Abandon ship. And if you're still torn and still wanna root for, like, Michigan State and Rutgers for no real reason... hey, at least we're not the Big 12?
With TCU's loss to Ohio State, the Big 12 is now 0-14 in non-conference games at AT&T Stadium.

— Zach Barnett (@zach_barnett) September 16, 2018
Texas is the reason, they say. 
The Hybrid
"We are what we pretend to be, so we must be careful about what we pretend to be."
Thursday
N/A
Florida Atlantic at UCF (16): When not napalming Ohio State, Brett McMurphy had some time to kick out this very cool UCF stat.
Consecutive games scoring at least 30 points:

UCF 15
Oklahoma 11
Oklahoma State 9
Penn State 7
Buffalo 6
Appalachian State 5
Mississippi State 4
North Texas 4

— Brett McMurphy (@Brett_McMurphy) September 19, 2018
I seriously half-expected it to end with "Ohio State -666".
Penn State (10) at Illinois: Illinois, you think Vontae wants to use the rest of that eligibility?
Vontae Davis retired from the NFL rather than be a Bill for one more half: https://t.co/SkuGItCY08 pic.twitter.com/uorARW0AEZ

— Deadspin (@Deadspin) September 17, 2018
Washington State at USC: Can USC stop WRs like this?
A closer look at the touchdown by Tay Martin #GoCougs pic.twitter.com/lv97BXLU7e

— WSU Cougar Football (@WSUCougFB) September 16, 2018
Because they ain't stoppin' this:
I believe in this man pic.twitter.com/HrFZWZDwz9

— Brian Anderson (@b17anderson) September 16, 2018
No, seriously, that picture is real.
I want YOU to come to Pullman. pic.twitter.com/0C60Wz2CEM

— CougCenter (@CougCenter) September 15, 2018
Sadly, this is also real.
When Wazzu lost to Eastern Washington, the Cougar defense spent the first half of the game running two completely different schemes at the same time because they weren't wearing the same wristbands https://t.co/YLUeAE6v3E pic.twitter.com/u2gCz4y5ft

— Brian Floyd (@BrianMFloyd) September 14, 2018
I have concerns.
Saturday
Georgia (2) at Missouri: Georgia's cakewalk to the SEC title game is so fluffy that I debated a new feature where we talk about different cake types every week instead of their games. The problem is I looked at the first one (Angel cake) and just got hungry and sad. This also surfaced: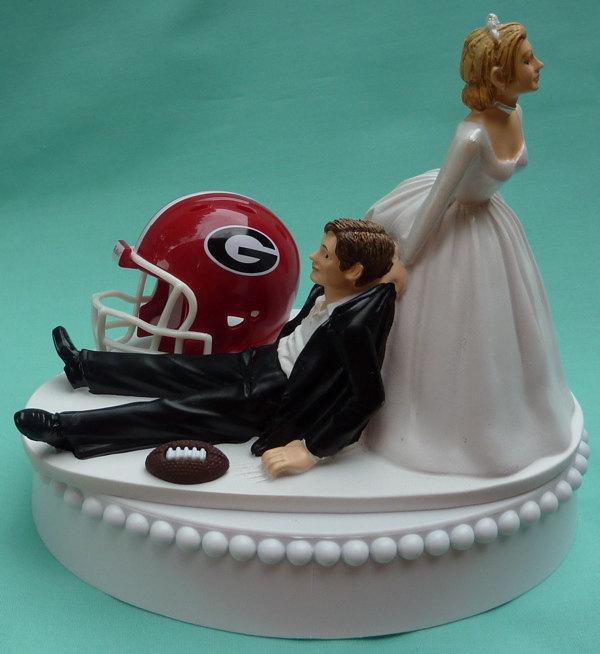 The dug in claws really do it for me.
Notre Dame (8) at Wake Forest: Bleh, meh, shut up. I'm about two and half weeks through with my "no chicken for seven weeks because Michigan football isn't a team" bet loss, and I gotta say... it hasn't been awful. Outside of being on the outside looking in at Buffalo Joe's and Buffalo Wild Wings, it generally drives me to more exquisite meat (steaaaaaaaaaaak) or healthier meat (feeeeesh). That said... still gonna house some wings whenever these seven weeks finally end.
Nebraska at Michigan (19): I don't mind Nebraska, but you do, so you'll love this.
Nebraska is treating their game against Michigan like Rocky

Michigan is Drago, according to RB's coach Ryan Held.
pic.twitter.com/5QUPzKjjLB

— Trevor Woods (@WoodsFootball) September 19, 2018
...
That was 14 seconds too long.
* * *
Also, this dude seems noble, but I got tired just thinking about his life.
#Huskers OL Tanner Farmer speaking the truth. pic.twitter.com/My32g583zx

— Hail Varsity (@HailVarsity) September 17, 2018
"Leave it or take it" was a nice flip, though.
Boston College (23) at Purdue: Man, we talked about this before, but I got re-fixated after these tweets.
Fifty years from now I will still be thinking about how absurd Darrell Hazell's hat brim looks. pic.twitter.com/cKPlaXUI2E

— Jeff D Lowe (@JeffDLowe) September 16, 2018
&
HE'S WEARING TWO OR MORE (PROBABLY MORE) QUARTER ZIPS.

Even in the cold that's a crazy move. pic.twitter.com/sL2lTqeCsF

— Jeff D Lowe (@JeffDLowe) September 16, 2018
Kent State at Ole Miss: Sleep soundly, sweet princes.
Alabama left guard with the baptism pic.twitter.com/mX5SQKjdkn

— Geoff Schwartz (@geoffschwartz) September 15, 2018
Buffalo at Rutgers: Is it possible Rutgers' coolest play of 2018 will be in a bad, bad loss to Kansas?
I love this game so much pic.twitter.com/XyNPMmuH9a

— Bryan Mac (@Bry_Mac) September 15, 2018
Definite?
Minnesota at Maryland: 
Texas A&M (22) at Alabama (1): Make the move, Jimbo.
Jimbo Fisher: "I love Southern Cooking, I can't give it up"

Me: "Would you go full Vegan for a year if it meant you beat Bama this weekend?"

Jimbo: "ZERO doubt. I love winning too much to care about food"

Question, would you go Vegan for a year if it meant a win for your team?

— Peter Burns (@PeterBurnsESPN) September 17, 2018
Clemson (3) at Georgia Tech: Ah, one of my favorite Hybrid moments of the year: Clemson Tom mocking the triple option.
The Tigers travel to Atlanta to take on Paul Johnson and his 1932 style offense. For reasons unbeknownst to me, the Georgia Tech players have been trash talking our defense. Yeah -- what moron is doing that? Our defense is the best in college football, and we keep shutting down GT and their god awful offense each year. The triple option doesn't work, Paul -- stop being an idiot! Also why does his face look like he just pooped his pants? I hate GT for their arrogance and stupidity when it comes to college football. 

Let's hang 50 on their asses! Who's pissed off? I HATE 'EM.
Tulane at Ohio State (4): Do you want to vomit or piss on this?
September 17, 2018
Ohio State could teach Tone Deaf 701 classes at this point:
Did... Did Ohio State's interim head coach just say the program has a great culture? Like... You realize WHY you're an interim head coach right now... Right?

— Patrick Barron (@BlueBarronPhoto) September 16, 2018
Make that 901.
Urban Meyer is literally prohibited from coaching football today. https://t.co/311wenVB2y

— Patrick Barron (@BlueBarronPhoto) September 15, 2018
Laura Wagner went in earlier this week, too.
In an interview with ESPN, a Twitter statement, and a rambling press conference, Urban Meyer made it excruciatingly clear that he is still missing the point.

In a sitdown with ESPN's Tom Rinaldi on Saturday, Meyer said he was speaking now because he wants the "truth to be out there." Then he promptly tried to obscure the truth about the issue at the heart of the matter: what he knew about the abuse allegations and when.

[...]

Lying, or "misspeaking," as Meyer repeatedly characterized it in his press conference today, does indeed have a way of making people question your honesty. And now, surprising no one, Meyer is painting himself and his program as the real victim here. He says that he's "truly sorry" for the fact that people lost faith in him; he is explicitly not saying he's sorry for ignoring domestic violence.
Painting himself as the victim? That is not the Urban we kno--wait yes, that's him exactly.
"[During the investigation] I sat in my house and stared at walls for two weeks and it was awful. I was exhausted. And obviously very emotional that I was suspended, I had never been suspended, and then I walk in a press conference and cameras are going, I start getting rapid-fire questions at me and I did not do well, again, at that scenario."
The true, ultimate, bread and butter is actually the next Urban quote, which I have just below The Contract and just above "This is history" on the all-time egregious list.
"Ever since I began as a head coach and even in more recent years, I would say every other day this is very strong—last night I talked to our team about it. We have power unit messages to our players every Thursday and I talk about domestic violence Title IX respect. When I say the word Title IX, our players respond back to me: 'Respect.' That's how serious we take this. This is something that is constantly have conversation. It's not uncommon for me to send a text message out on a Friday or Saturday night that says, 'Remember, Title IX equals respect.'"
Me, when he first used the phrase "Title IX / Respect": 99.999999% that's a lie this is insane why is he doing this why is he this way this is like sitting in the middle of a room that's on fire and holding your position for literally no reason while you are burning alive, but... maybe? maybe, in this slight, barely possible way, there is no fire here
Me, when he pushed it over the top with the txt message part: 
What a damn batch of meaningless nothing. If someone routinely hit me up on Saturday nights and said "Air / KEEPS YOU ALIVE", I might just hold my breath forever.
All this current horrible is making me miss older horrible.
This is exquisite trolling. Bravo, Sweatervest. Bravo. https://t.co/1OrbaoIi16

— The Official Kirk Ferentz Fan Club Account (@PV_GIA) September 18, 2018
There he is! Sadly, current horrible reigns.
Gene Smith handed over a phone that contained no texts! https://t.co/IbTYW5b1EM

— Stewart Mandel (@slmandel) September 19, 2018
Kansas State at West Virginia (12): Looks like the early returns on "Is Will Grier gonna be a thing?" are "uh duh". He's got 9 TDs, 1 INT, and 76% completions through two games. Before you ask, one was against Tennessee.
Virginia Tech (13) at Old Dominion: Still unsure how Power 5 programs end up visiting smaller schools; not remotely opposed... just seems like they'd be dicks about it.
Northern Illinois at Florida State: Mia Khalifa started a GoFundMe to buy out Willie Taggart's $21.2 million and send him packing. Do any of you wanna guess what it's at? I'll guess, too.
...
...
...
...
...
...
...
...
...
...
...
...
...
...
I'll go... $4,069.
...
...
...
...
/looks up
...
...
...
...
...
...
...
...
...
...
...
Our answer: $121.
Arizona at Oregon State: /grabs gavel
OREGON STATE HAS A TURNOVER CHAINSAW! pic.twitter.com/RIVFTDtTjE

— ESPN CollegeFootball (@ESPNCFB) September 16, 2018
I... cannot hate on this.
/smashes gavel down
TCU (17) at Texas: /shakes head at TCU in disgust
TEXAS CUSSIN UNIVERSITY pic.twitter.com/MqGQkThuwV

— BUM CHILLUPS (@edsbs) September 16, 2018
Better times.
McNeese at BYU (25): Coulda sworn McNeese had a "State" after it. Are there two McNeeseseseses? Regardless, the chocolate milk was flowin' in Provo last weekend.
BYU bench getting in on jump around. Cocky move. pic.twitter.com/Mc6ACbuOzh

— Badger Herald Sports (@BHeraldSports) September 15, 2018
Leave it to Wisconsin to equate dancing-while-hyped as "cocky."
Also, give me three Tanners vs. that field, all day.
Just did a rundown of BYU's roster. They've got:
3 Tanners
2 Braydens
2 Rhetts
and a
Baylor
Beau
Brach
Bracken
Dax
Gunner
Koy
Riggs
Sawyer
Skyler
Talon
and Zayne

— Rodger Sherman (@rodger) September 2, 2018
Actually, throw Riggs in there as well. We could definitely use a Riggs.
* * *
Texas, meanwhile seems to have it all figured out.
Folks, the McConaughCam is real. pic.twitter.com/1KSVU6IPoU

— Paolo Uggetti (@PaoloUggetti) September 16, 2018
Army at Oklahoma (5): I don't think I saw a single Kyler Murray highlight last week, but this was faint-worthy.
Baker Mayfield through 3 games last year: 1,033 yards, 10 TDs

Kyler Murray through 3 games this year: 1,030 yards, 10 TDs

— A David Hale joint (@DavidHaleESPN) September 15, 2018
Louisiana Tech at LSU (6): Deadspin linked two supremely great Ed Orgeron videos. The first, I call "Fuck Them Is Right".
The second... "Unintelligible Whirlwind Whipping Insanity".
Mississippi State (14) at Kentucky: Will the Bulldogs possibly, maybe finish the season ranked higher than Penn State? Let's discuss blindly.
Texas Tech at Oklahoma State (15): Eh.
Arkansas at Auburn (9): Man, I guess. Top 10 still? For real?
Michigan State (24) at Indiana: Sparty. Sparty, Sparty, Sparty.
Dantonio says MSU "came up short" at Arizona State but he felt the Spartans "conquered" the heat and time change.

— Chris Solari (@chrissolari) September 18, 2018
/holds right hand over mouth
Michigan State on a roll, they may have Lost to Arizona State but beat the powerhouse Heat and Time Change University followed by Bye Week A&M

— Mike Feeney (@Mike_Feeney48) September 18, 2018
/puts left hand over right hand
Explain to him what conquered means

— Brian Grover (@LrdImDiscouragd) September 18, 2018
Finish him!
De-heated with Dignity https://t.co/VspnQZ9cpy

— Bryan Mac (@Bry_Mac) September 18, 2018
Hahahaha.
You are a prince among men, @tixpeypey22. pic.twitter.com/UM5viZg5xr

— Ace Anbender (@AceAnbender) November 3, 2016
I'm out.
Stanford (7) at Oregon (20): Game of the Week.
You could root for David Shaw, or you could root for THIS.
You underestimate the power of the Duck Slide. pic.twitter.com/p5Gswf3h8f

— Dick King-Smith HQ (@DickKingSmith) September 14, 2018
You still picked David Shaw?! Was it because they used big numbers again last week? I mean, everything else was pretty fuckin' sleek.
Oregon staying fresh for Week 3 (via @oregonfootball) pic.twitter.com/chANyfbK8j

— ESPN CollegeFootball (@ESPNCFB) September 15, 2018
Wisconsin (18) at Iowa: Sure, I was mega stoked when Bucky lost to BYU, but yeah, it took luster off this game. I've moved past it. Sure, a win over a single digit ranked team would look quite fine, but I'd rather get 'em while they're weakened*.
(* - maybe)
Arizona State at Washington (10): No time for you, Washington. Not just this week -- I meant ever.
Eastern Michigan at San Diego State: Pretty happy with where this game landed in the column. San Diego State right tackle, set us free.
These blocks are supremely disrespectful. The San Diego St RT might have murdered this safety. And the LT gets himself a nasty as well. This is impressive. pic.twitter.com/vSOle7O5mo

— Geoff Schwartz (@geoffschwartz) September 17, 2018
Wrapping It Up...
Sure, Urban Meyer now makes $6.5 mil a year in real money, but can you even put a price on his 2012 family contract? pic.twitter.com/BGEBmJpnTy

— Bobby L. (@bobbystompy) April 13, 2015
Bobby Loesch is a weekly contributor to Go Iowa Awesome. Follow him on Twitter @bobbystompy or email to bobbyloesch [at] gmail.com.