The Hybrid is a weekly Big Ten football preview, plus relevant or whimsy games from the national slate
We have a charity.
Domestic Violence Intervention Program (DVIP). Thank you all for the submissions via Twitter and the comments last week. I picked this one because of its local focus:
The Mission of the Domestic Violence Intervention Program is to provide comprehensive support and advocacy services to victim/survivors, focusing on immediate and long-term safety, empowerment, dignity, and hope. In collaboration with the community, we strive to end domestic abuse through education, accountability, and social justice.

DVIP provides services to victim/survivors of domestic violence, dating violence, stalking and human trafficking. In today's society, intimate partner violence is widely known to be one of the greatest physical dangers to women. Women, men and children are murdered each year and the risk of child abuse is much greater in households where domestic violence occurs. Responding to intimate partner violence is critical and requires a community-wide effort. Support for victims of intimate partner violence and their loved ones is available in Johnson, Iowa, Cedar, Des Moines, Henry, Lee, Van Buren and Washington Counties through the Domestic Violence Intervention Program.
I just donated $100, and you also can here. Please send a screenshot/email of your donation -- @bobbystompy on Twitter or bobbyloesch [at] gmail.com -- if you would like to be featured in Ohio State's section in perpetuity for the rest of this season. Because you know who won't be. We'll set a final goal of $1,000.
Special thanks again to Nerdhawk for the entire idea.
The Hybrid
"'Nice' is basically one step above saying 'I hate you'."
Thursday
N/A
Utah State at BYU: There will be no chocolate milk case.
Saturday
Alabama (1) at Arkansas: Ain't no trap game, Sabes. Also, is he making a good point here?
Nick Saban is not a fan of upperclassmen using the new redshirt rule to transfer during the season: https://t.co/dp3RMQBmdJ pic.twitter.com/gr3hjl1VZj

— Yahoo Sports College Football (@YahooSportsCFB) October 1, 2018
Thought yes originally, but the answer is probably no. I'm assuming he's complaining because of Clemson/Kelly Bryant (his No. 1 competition at this point) or dudes getting fed up with a glaring lack of playing time in the Tide's rampant 5-star system. Sure, it doesn't sit great with me, but if the older players want to take advantage of a rule the NCAA created -- while they continue to not be compensated -- I don't see the problem at all.
Alabamas offense has star power, literally (cc: @__RUGGS) pic.twitter.com/DGdVOq55hv

— AL.com sports (@aldotcomSports) October 1, 2018
oh my god these poor UL-Lafayette DBs trying to tackle Henry Ruggs pic.twitter.com/m62sEuN5Wl

— Sam Cooper (@SamDCooper) September 29, 2018
Your latest reminder that Alabama just isn't fair. 
Texas (19) at Oklahoma (7): /already scared this is our Game of the Week
That said, Kyler Murray threw a screen pass where the guy YAC'd for, like, a 60-yard TD, and my first thought was "Kyler Murray HELL YEAH" (as if he did anything). This is why we can't have nice things.
Kyler Murray's biggest mistake of the game. Failed to stick the celebration landing. #Sooners pic.twitter.com/KF9Ja43Igu

— Sooner Gridiron (@soonergridiron) September 30, 2018
He rules.
Kansas at West Virginia (9): Nahhh.
Maryland at Michigan (15): Ohhhh, the banana boys.
Michigan ranks No. 123 nationally in total penalties.

— Nick Baumgardner (@nickbaumgardner) September 30, 2018
Love my team.
BANANA BOYS SIGHTING @bobbystompy https://t.co/v6ib6xSV6k

— RossWB (@RossWB) September 28, 2018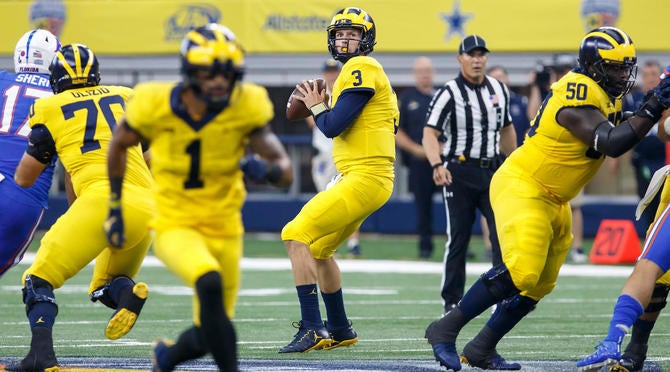 In all seriousness, this might be the first proud moment in, like, five years:
What would it cost your employer in lost productivity if you had to call-in sick this week, Darren? #GoBlue https://t.co/kpfWyq4Psg

— Michigan Athletics (@UMichAthletics) September 30, 2018
Penn State: If you thought for even a second you'd be getting off the hook due to your bye week, you were as wrong as this play call.
Here's what Penn State went with on 4th and 5 with the game on the line. pic.twitter.com/onhYZGP2RH

— CBS Sports (@CBSSports) September 30, 2018
Why the hell did you take the ball out of McSorley's hands?! Just when you think you can trust weirdo James Franklin.
James Franklin today:

Two punts inside Ohio State's 40
A third punt on 4th & 1 from OSU's 49
FG on 4th & 3 in the red zone
Forgot to go for 2 when up by 5 in the 4th
Burned two timeouts to make a 4th & 5 a must-convert play, then called a draw out of shotgun.

— Jeff (BPredict) (@BPredict) September 30, 2018
A draw out of shotgun on 4th and 5. FRANKLIN WHY.
I felt like OSU had 17 guys walked up, showing blitz on that last play. All I could think was, will he get this slant pass off before he gets drilled? Franklin thought to run into that apparently.

— Elliott Mealer (@ewmealer) September 30, 2018
Even this Franklin handled it better.
So yeah, trade us this guy.
"THAT'S CATCH OF THE YEAR THROUGH WEEK 5!" #SCtop10 pic.twitter.com/rviOfPCONI

— SportsCenter (@SportsCenter) September 30, 2018
Northwestern at Michigan State (20): In my head, Brian Lewerke is running for 11 yards on third down speed options perpetually.
Illinois at Rutgers: Was Illinois off last week?
/checks
Yes.
Rutgers was off, too.
Rutgers gave up a 3rd down called back by penalty, then gave up a third down called back by penalty, then gave up a third down

— Steve (@IlliniToffee) September 29, 2018
Northern Illinois at Ball State: Wait, is this field real?
Like running into Pleasantville https://t.co/QHgw39slrF

— Bunkie Perkins (@BunkiePerkins) September 30, 2018
Clemson (4) at Wake Forest: 
Did you witness that garbage team from up North trying to take out my quarterback? I officially am going on the record saying I hate Syracuse. 

Anyways, let's move onto this week. Trevor Lawrence will be starting in the game against the Demon Deacons of Wake Forest. I can't really hate against Wake Forest because they tried to recruit me to join their track team. Could you honestly imagine "Demon Deacon Tom" -- hell naw, man. Wake Forest is a nerd school, and your boy CT ain't no nerd. Clemson's second highest win streak comes against the Demon Deacons; the highest is against the Gamecocks with 69 total wins :-).

If you want to win some easy money, go ahead and put it on my Tigers beating Wake Forest.

I've been on fire so far with my football picks, only losing two all season. Follow me on Twitter @ClemsonTom.
LSU (5) at Florida (22): What are... /perks up... those?
Florida pulling out the with the Jordan Retro XI cleats for their matchup against LSU this weekend. (via @GatorsEquipment) pic.twitter.com/gXt3LISOBn

— ESPN CollegeFootball (@ESPNCFB) October 2, 2018
Florida State at Miami (FL) (17): Instead of asking "Was Jimbo wrong?" let me posit a different question. Would you rather play for this team?
Jimbo is not pleased. pic.twitter.com/JMvlk9zDEb

— Belle Es You (@SouthernbeLLSU) September 29, 2018
Or this team?
This is a first ballot entry in the Bad Throw Hall of Fame. pic.twitter.com/Bkf3DAcX7v

— Matt Hinton (@MattRHinton) September 28, 2018
Haha, the maniacal laughter is so good.
In case you are not watching this game (and you should not be): Miami just called a timeout after returning a pick six to give their defense a rest because they were winded FROM RETURNING SO MANY TURNOVERS FOR SCORES

— BUM CHILLUPS (@edsbs) September 28, 2018
The U.
San Diego State at Boise State: We've all seen cool one handed catches, but this one had an unmatched casual fluidity.
John Hightower only needed one and one to make this catch

(via @CBSSports)pic.twitter.com/6ww34G0C09

— Yahoo Sports (@YahooSports) September 30, 2018
Iowa at Minnesota: and we back and we back and we back
Iowa better be favored.
/checks
By a touchdown! Are we a real team again?
/thinks hard on it
Maybe!
Indiana at Ohio State (3): Dwayne Haskins had one of his worst games of the year against Penn State (a season low 56.4 completion percentage)... and still threw for 3 TDs in an epic road comeback.
Arizona State at Colorado (21): I can definitely fuck around with undefeated Colorado.
SMU at UCF (12): Do we want UCF playing Clemson or Alabama in round one of the Playoff?
Kentucky (13) at Texas A&M: Or Kentucky.
Us after a college football Saturday: pic.twitter.com/OMutnMgFyT

— ESPN CollegeFootball (@ESPNCFB) September 30, 2018
UConn at Memphis: 
I will not photoshop this man. He has Ennui Huskyd his very soul. https://t.co/sQSgv67QWL

— Ryan Nanni (@celebrityhottub) September 29, 2018
In maybe better (definitely worse) news...
So apparently UConn's Randy Edsall gets $2k every time UConn scores first.

UConn has won the toss once this year, of course they took the ball
UConn has lost the toss 4x this year, their opponent deferred on all 4

Randy has a coin toss hustlehttps://t.co/WXLRXPShhQ

— Rodger Sherman (@rodger) October 3, 2018
Seriously, that's pretty messed up.
Vanderbilt at Georgia (2): A lot of good responses to my cake eater inquiry last week. Not a lot of love for Edina, though. I am from Naperville and've always considered that the Edina of Illinois. Overland Park, Kansas, has also been on that same plane. What's the Iowa equivalent? West Des Moines? Yay? Nay? Anything closer to Iowa City? 
Auburn (8) at Mississippi State: Just... no.
Washington (10) at UCLA: Blehhhhh.
Nebraska at Wisconsin (16): 
"Siri, show me 2018 Nebraska" pic.twitter.com/zBFOSWhnFC

— Athlon Sports (@AthlonSports) September 29, 2018
Notre Dame (6) at Virginia Tech (24): Can't let myself get excited. ND is probably favored by a touchdown.
/looks up
Exactly 7 points, ugh.
Washington State at Oregon State: Wazzu won a tight one against Utah last week, and you're right, it doesn't matter, but the game winning TD was so sick, I'm telling you (2:40 mark).
Utah at Stanford (14): Maaaan, Bryce Love hurt his ankle again. Get 100% soon (and play bad when you do).
Wrapping It Up...
tfw Iowa football is back
lmaooo pic.twitter.com/izJOi901PK

— nick (@nick_pants) September 30, 2018
Bobby Loesch is a weekly contributor to Go Iowa Awesome. Follow him on Twitter @bobbystompy or email to bobbyloesch [at] gmail.com.