The Hybrid is a weekly Big Ten football preview, plus relevant or whimsy games from the national slate
College football is about enemies.
You love your team, of course -- but who you hate reveals so much more. My squads are aight, but Urban Meyer's ego is a war crime and Jim Delany is really what's wrong with society as a whole. These two men represent the worst of the worst. And what's badder than that bad, is they'll never relinquish. For as long as we live, they will be perpetual thorns in our si--
/minion whispers in my ear
"WHAT?!"
/whispers more frantically
"BOTH OF THEM?!"
This can't be possible. If I'm losing these two net negatives, why does it still feel like nothing changed? Probably because Delany's stain on college football could last another full generation, while Urban will be back before we can blink and clearly learned nothing. I mean, look at this ass:
HAHAHAHAHAHAHHAA URBAN MEYER SAYS ONE OF THE TWO REASONS THEY DESERVE TO GET IN IS THEIR "EMOTIONAL YEAR" HE HAS THE COJONES TO SAY THAT OUT LOUD

— Lauren Brownlow (@lebrownlow) December 2, 2018
Do you know anyone in your life who genuinely, at their core, thinks they are important? I do but can count them on my hand. I only know Urban through his daughter, but he's No. 1 on the list:
Urban: The style of coaching Ive done for 33 years is intense, its very demanding. Ive tried to delegate more, tried to be more CEOish, but the product started to fail. I had to get right back to it. The challenge was, can I continue to do it in that style?"

— Stewart Mandel (@slmandel) December 4, 2018
"I suppose I was so great that even in trying to be slightly less great, it wasn't great enough without me being at 100% pure greatness. God damn, I am great. THE CONTRACT."
I usually defend celebrities when they want sympathy. It's not an easy life, money doesn't fix everything... but this self-victimization -- especially in the wake of literally everything that happened on his watch -- is light-years past clueless. I suppose these are the effects of being told you're a god for 15 years and getting paid like it. You... you can't be wrong.
For so long in this space, I was like Andy Warhol*, and he was my tomato soup can**. We once discussed the idea of your feelings potentially changing when your enemy is finally vanquished. How do you feel about them when they no longer pose a threat? Urban? Glad he's gone, wished it happened sooner. He was a true antagonist, both on and off the field (I am not at all equating the two). Hope he never comes back, but we all know better.
During my lifetime, I've seen Ohio State head coaches get fired for punching players, losing to Indiana, losing to Michigan, and cheating. But I've never seen one retire on his own accord. Congrats, Urbs. You will not be missed.

— jamie mac (@justcoverblog) December 4, 2018
(* - I am not Andy Warhol)
(** - Urban remains a can)
* * *
/loads up second PowerPoint
James Edward Delany. If Urban Meyer is new school evil, Delany represents the oldest of all schools. I once coined him The White Malcolm X for a reason. But even he is finally relinquishing his death grip on our conference... only after doing the classic old guy thing where he's like "I'm gonna retire! But not right now right now, because I wanna get more money first while you talk about my Legacy every step of the way. Good? Cool."
As for the football playoff, he hated it, even if turned out to be good to the Big Ten. Ohio State doesn't get to play, let alone win, a national title in 2014-15 under the old BCS. The current four-team model was a compromise, of course, to appease the Delany set. It would be even better if it contained eight teams and included an automatic bid for the Big Ten. That would increase the value of the regular season and assure the conference a spot at the table, but Delany was against it.

Why? Who really knows?

It likely centers on the fear bowl directors have about on-campus playoff games. Delany once claimed that the creation of a playoff would cause bowl games to die off. It sounded like a bowl industry press release. The playoff did arrive, though, and there are more bowl games than ever.

A playoff home game in the Midwest would be a competitive advantage (let's see some SEC team play under falling snowflakes in Columbus or Ann Arbor), not to mention an economic boon for traditional college football towns that have supported the sport for generations.

Instead, Delany favored everyone flying to Arizona or Florida or California to drop their discretionary income out of the region.

Again, who knows? It doesn't matter anymore, though. He's retiring, the end of a formidable era in college athletics.

Money got made. Some traditions were defended to the bitter end. Others got chewed up in search of cable subscribers. Gulp, Rutgers is here to stay.

For college football, and those seeking playoff reform, there is increased optimism for the future.

No knocking Jim Delany. All hail the king. For 30 years, he almost always got what he wanted.
Not at all here for the "Even though he sucked, he did it his way!" takes.
On his way out, Jim Delany still says the absence of freshmen ineligibility is hurting college athletics.

— Nick Baumgardner (@nickbaumgardner) July 18, 2019
Fuck him.
Maybe the new guy will usher in a new era of ch--
Kevin Warren not ready to offer opinions yet on athlete compensation, CFP expansion and other big-topic issues. Wants to spend time around Jim Delany and the league before doing so. #B1G

— Adam Rittenberg (@ESPNRittenberg) June 4, 2019
GET OUT OF THE BUILDING, KEVIN WARREN. THERE IS NOTHING TO BE LEARNED FROM THIS MAN, KEVIN WARREN.
KEVIN WARREN.
But Kevin Warren getting poisoned on Jim's way out is a future problem for a future date. Today, we toast to victories.
Top 10 accomplishment in my journalism career is this picture/article popping up on the first page if you search the white malcolm x. And sure, the Big Ten will probably always be kinda bad... but were getting rid of Delany, yall! pic.twitter.com/a9VxWdajDI

— Bobby L. (@bobbystompy) March 4, 2019
The Hybrid
"If I am a little dismissive, it's only because of my harrowing backstory"
lol, Week 0
The NCAA is truly shameless.
Miami (FL) lost to Florida (8): Fun, sloppy, heart-stopping-even-if-you-don't-have-a-dog-in-the-fight kinda game. Was sad to see Miami go down... but it did give us this.
This guy is a visual representation of linking to your Soundcloud pic.twitter.com/oTC6n3WCrx

— RedditCFB (@RedditCFB) August 25, 2019
That's the good shit.
While we're on the subject, I truly do not understand the hatred for Tate Martell. Sure, he went to tOSU. Sure, he transferred when he didn't get the QB1 gig. SURE, he again did not get said gig down in Miami either. But the dude converted to WR to see the field; doesn't seem like a selfish/me-first cat at all -- just a guy who wants to play.
All of that said, his name is Tathan.
I guess hes Tathan his talents to South Beach https://t.co/ytRaKvCPDp

— The Smoking Musket (@smokingmusket) January 16, 2019
It's been a good off-season.
Hawai'i Kevin Dyson'd Arizona: Went to Hawai'i in May following our wedding, so I now have no problem shamelessly spelling it with the apostrophe. I'm cultured now.
Oooooh that ending.
Khalil Tate comes up less than a yard short of a game-tying TD as time expires. @HawaiiFootball squeezes out the 45-38 victory.

WHAT A GAME! WHAT A START TO THE CFB SEASON!#CFBonCBS pic.twitter.com/yhXPySr4I4

— CBS Sports Network (@CBSSportsNet) August 25, 2019
Came one apostrophe short.
Thursday
Florida A&M at UCF (17): 
What a rollercoaster for UCF:
2015: Winless
2017: Undefeated
2018: Undefeated
2019: Winless

— RedditCFB (@RedditCFB) January 1, 2019
Georgia Tech at Clemson (1): Is there such a thing as a hit piece that's also fair? If so, Will Leitch pulled it off with this very comprehensive Dabo takedown. Seriously, give it a read and tell me you haven't flipped back to Saban (not that it has to be one other the other). I mean, look at this:
Swinney's stances against player autonomy, in both college and professional sports, are legendary. He criticized Colin Kaepernick's protest, saying that "it's not good to use the team as a platform" and that "two wrongs don't make a right" while citing Martin Luther King Jr., something he later had to apologize for. He claimed players don't pretend they have concussions to stay on the field and that football is "safer than it has ever been." (Both statements are false.) He once kicked a player off his team — and thus out of college — for "having a bad attitude." He doesn't tolerate cursing at his practices. Oh, and remember the Clemson football team's visit to the White House during the government shutdown, when President Trump gave out all that fast food? The Root reported that while most of Clemson's black players did not attend, the ones who did go did so because they feared Swinney would punish them otherwise. (Swinney denied this, as did several players.)

Swinney's unsavoriness goes beyond seeking to maintain his own power and profits. He has said America doesn't have a "race problem, it has a sin problem." In 2016, he refused to investigate an allegation that Clemson players had used racial slurs against South Carolina players, saying he could forgive college students for making mistakes but not media for reporting on them. (He actually said that the reporters who published the allegations should have been fired.) He has said that activists should "move to another country." He even once called himself "Osama bin Dabo," which is sort of offensive but mostly just weird.
* * *
To balance things out to the point where they'll definitely get imbalanced the other way, Clemson Tom returns to The Hybrid for another season of shit-talking and braggadocio.
My Clemson Tigers, the undefeated national champions, take on the Georgia Tech. Say it again for the people in the back!

The undefeated, national champions!!

Georgia Tech has a new coach that honestly, I think is a complete jackass. He will be an utter failure and has never been successful anywhere he has been. Plan on my Tigers curb-stomping the Yellow Jackets.

All summer long, everyone's been saying to me that Clemson is overrated, got lucky, can't repeat, etc. I don't care what you say about my Tigers, just make sure you mention the national champions when you talk.

i.e. "The reigning national champions got lucky last year" ... "The reigning national champion quarterback, Trevor Lawrence, is overrated" ... "I really don't think Dabo is that great of a coach, even if he is the coach of the two time national champion Clemson Tigers"

See how that sounds? Better. Put some respect on our name.

All kidding aside, this Clemson team has the most dynamic offense I have ever seen in college football. Every receiver we have is a five-star recruit coming out of high school. We even have backups that were five star recruits. More than I can keep track of. We have the best quarterback and the best running back in college football. You cannot double-team all five of these cats. We can score 100 points on anybody.

Drink a glass of bourbon Thursday and watch my Tigers demolish the Yellow Jackets from Atlanta.
* * *
From the Georgia Tech side of things, I'm not sure any video made me laugh more than this one during our time apart.
Paul Johnson's Film Room savagery is absolutely glorious.https://t.co/fUqjQm62Br pic.twitter.com/yNWRMpbFpz

— SportsChannel8: The Tweets (@SportsChannel8) December 30, 2018
Texas State at Texas A&M (12): I know nothing about this team. Someone tell me something about this team.
/thinks for two more seconds
Ah, yeah -- Jimbo is there.
South Dakota State at Minnesota: I see Ol' Dumbass is at it again.
P.J. Fleck a man who left Western Michigan for Minnesota two years after signing a six-year contract extension and who flipped six WMU commits on his first day at Minnesota thinks society has a commitment problem. https://t.co/rt8IYbLnFb pic.twitter.com/AZcY7piPA6

— Yahoo Sports College Football (@YahooSportsCFB) May 23, 2019
Utah (14) at BYU: /shrug
Tulsa at Michigan State (18): Sparty skates due to my attention being on literally everyone else crumbling around them.
Wisconsin (19) at South Florida: Sconnie seems to not have their shit together as much as usual. Week 1, road game, traveling a long distance... dare we put them on upset alert?
/looks up spread
Wisconsin by 12.5 -- eh, guess not. So no upset alert... just upset. Because we have a "goodnight, sweet prince" to acknowledge.
Notable new transfer on the market: Wisconsin three-year starting QB Alex Hornibrook. 26-6 career record but really struggled last year.

— Stewart Mandel (@slmandel) February 27, 2019
So who took his place, and is he equally as horny?
QB recruits of Graham Mertz's profile usually don't pick #Wisconsin, but he's not a stranger in a strange land.

"He has that Midwest state of mind. That's what drew him to Wisconsin."

On the potential missing piece to the Badgers' playoff puzzle. https://t.co/ZRD5DJk5LO

— Adam Rittenberg (@ESPNRittenberg) June 4, 2019
/tries to say "Midwest state of mind" out loud before laugh-vomiting
Well, if he can't be as horny, will he be able to replicate Wisconsin's storied passing legacy on the field?
lol, yeah, pretty much pic.twitter.com/2ZjqSuq6sQ

— Bill Connelly (@SBN_BillC) May 31, 2019
Ah, so yes. Tell ya what, if he's pitchin' like this, it could be one helluva season.
Hey @obj, is @ac_hollywood doing this right?#OnWisconsin pic.twitter.com/Dkn7UPKID3

— Wisconsin Football (@BadgerFootball) August 5, 2019
UMass at Rutgers: 
(Been poorly clowning bad CFB games with potshots, GIFs, and YouTube clips for over a decade, and I'm not sure I've ever left one simply blank before.)
Purdue at Nevada: Longtime readers of this column know I play in a horrible Big Ten-only college fantasy football league and co-own a team with a tOSU fan. Last year, our team was built around Fant and the Indiana QB who lost his job to Penix this week. Needless to say, we did not make the playoffs.
This year, we are based around THIS GUY:
Rondale Moore had me at the Walter Payton juke pic.twitter.com/L0y4f9gTtm

— BUM CHILLUPS (@edsbs) August 27, 2019
Annnnnnd THIS GU--ah god damn it.
The Hawkeye Goatee

Nate Stanley said he forgot his razor when he showed up to camp and figured he'd go for it. pic.twitter.com/rImN8qyw3C

— Rob Howe (@RobHoweHN) August 27, 2019
Who is gonna tell him? I don't want to be the one to tell him.
Oklahoma State at Oregon State:
Just when you thought it couldnt get any better... #okstate #GoPokes pic.twitter.com/0mZM5YkIl6

— Cowboy Football (@CowboyFB) April 1, 2019
Saturday
Florida Atlantic at Ohio State (5): The Game really, really broke me last year. And sure, I've seen Michigan lose inept and lose close and lose big, but something about tOSU dropping 62 coupled with Michigan's all-world defense collapsing in on itself was too much to handle. It's like "Well, we might lose, but it won't be like that... jk it's literally the opposite of everything else this season has shown us. /punches dick".
Then and there, I promised myself not to follow Ohio State in any capacity going into 2019. I've calmed down since and started to vacillate on that, but as of now, this is the attempted-and-will-fail plan. With social media and writing this bullshit, there will obviously be things I see, but I actively do not plan on watching this team unless they are down three TDs or more in the fourth quarter. Too much has happened.
i'm going back to bed pic.twitter.com/joPG8UDJt3

— mgoblog (@mgoblog) August 14, 2019
None of this is worthy of our time. Not until The Game 2K19, at least.
Northern Iowa at Iowa State (21): Whoaaa, is Iowa State ranked higher than us?
/scrolls down trying to avoid other spoilers
Iowa at No. 20! This is awesome. One day, we'll achieve my dream of No. 1 Iowa vs. No. 2 Iowa State, and you'll all be miserable; cannot wait.
South Alabama at Nebraska (24): Nebraska is a popular pick to ascend-ascend-ascend this year. Consider me on board with the movement. Martinez is already one of the most must-watch players in this (boring) conference.
Akron at Illinois: I enter this football season without Mikey Dudek for the first time in seven years. It does not feel good, but with former Michigan QB Brandon Peters getting the starting job, I'm just happy to still have a favorite player down in Champaign.
Indiana vs. Ball State: Lose Hornibrook, gain a Penix.
My buddy Crooks weighs in:
I remember that dude from the recruiting process and really wanted his name to be pronounced "Pinnicks" just because I was imagining his childhood. That's not how it's pronounced.
Howard at Maryland: Did anybody see the new Jordan Peele movie, "Us"? One of the main characters rocked a Howard shirt throughout, and I found myself continuously rapping that one Drake lyric in my head ("Sound so smart like you graduated college / Like you went to Yale but you probably went to Howard, knowin' you").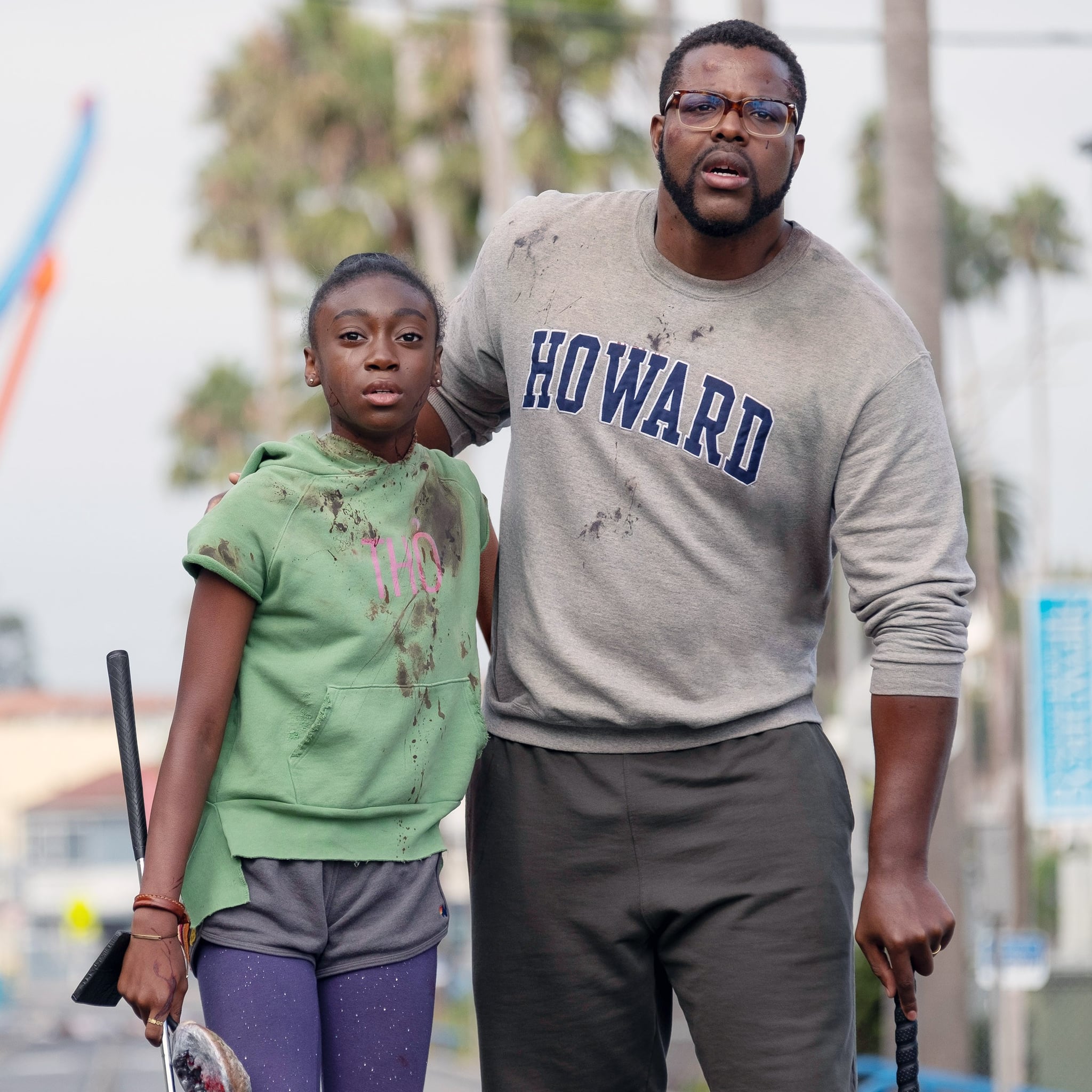 People died constantly.
Eastern Washington at Washington (13): No time for you, Huskies.
Duke vs. Alabama (2): Weird game. But one year later, it's still so good.
Sallie Mae: When are you planning to pay on your student loans?

Me: pic.twitter.com/ucRTPpDozX

— Kishuuuhhh (@KishaMakesItFun) September 3, 2018
Idaho at Penn State (15): Very ready for Penn State to fall off.
Northwestern at Stanford (25): The Fitz "phones r bad" thing was one of those rare moments where the wrong person did acquit themselves well.
Northwestern football coach Pat Fitzgerald speaks on the use of phones in todays society pic.twitter.com/A0R310aPuw

— CoachTube.com (@thecoachtube) July 21, 2019
Didn't matter, he still got dragged.
Syracuse (22) at Liberty: Meh.
Georgia (3) at Vanderbilt: This piece about the keepers of NCAA football and its online rosters was downright inspiring.
And perhaps someday these editors' efforts could actually pay off. Just as small-college football players dream of making the NFL, Burhans has a pipe dream that someday EA might start up the game again … and if they do, he says, "I'd hope they call us."

By now, Burhans figures, he and his cohorts probably know more about the intricacies of this game than the company itself. They've become caretakers of NCAA Football, the unpaid labor keeping it alive. They do it because they can't imagine not doing it, and because they have nowhere else to turn. And until the system changes, that's the way it will remain.
And futile.
Georgia Southern at LSU (6): Planning on visiting my dad in Alabama this year and hitting up Tuscaloosa for a game. We were debating between some directional opponent (cheapest ticket: $6) and LSU (cheapest ticket: $150).
...we picked the directional.
Middle Tennessee State at Michigan (7): No one asks me anything, but even I have been subject to the "Michigan's getting a lot of hype. Do you believe?" conversations.
Well, let's see where we left things:
Harbaugh needs to be fired or radically change his philosophy on offense. It's 2018, not Adam and Eve. Stop running the ball for no yards intentionally every other down. You have a 5-star QB, 5-star WRs, and usually reliable TEs. During the game, one of the announcers was like "This really isn't a quick strike offense". And though he wasn't wrong, that shouldn't be something we just accept as truth. How do you look at Oklahoma (on O, at least) and not think "This is what we need to be." No more smashmouth--IT AIN'T NO JOKE.
Maaaaaan. So the Wolverines brought in new OC Josh Gattis to spread it out, increase the pace, and -- /repeatedly bangs hand into head -- pass the ball to the NFL guys. If this is all real, Michigan probably does deserve to be favored in all of their (regular) season games. Will they win them all? I mean, no. No, they won't. But they should? Not that that's ever mattered in this sport of awful bad.
Oregon (11) vs. Auburn (16): Got a real problem making a game with no single digit ranked team Game of the Week, but I suppose since pre-season rankings mean nothing, and this is our only ranked-v-ranked, it'll do.
Sidebar: has anyone seen the rampant ESPN promos for this game while watching the U.S. Open? Or... perhaps other programming? That opening panning shot of Justin Herbert I swear looks like a video game.
Miami (OH) at Iowa (20): Who is the best Iowa WR of the Bobby era (2004-present)? This tweet makes a compelling case for Ed Hinkel.
Ed Hinkel is the best WR of the Ferentz era**

**Full Disclosure of bias: he once paid me $25 and a 6-pack of beer to help him shingle his roof. The one hand catches are pretty cool though. https://t.co/t6hCFkwlJw

— Murph (@JaymeJMurph) August 21, 2019
I asked my buddies Chris and Ryan (true lifers), and they said Marvin McNutt. Thinking on it more, I'd also toss out DJK or even Dominique Douglas. But it could be this that's sticking with me.
Trick question -- here's the real answer.
ITS HAPPENING. Register source confirms that Oliver Martin has been cleared to play for the 2019 Hawkeyes.

Word just came into UI compliance from the Big Ten. Heres an exclusive look at how it all came together. https://t.co/zmFonG9VwA

— Chad Leistikow (@ChadLeistikow) August 28, 2019
I kid, I kid. As a Michigan/Iowa fan, I really feel like one of the only sane people to come out of this. All of the Twitter transfer arguments seem as pointless as nearly anything we do online; mostly glad it worked out for him and excited to see where it goes from here. Everyone will be OK.
Lousiana Tech at Texas (10): Mock Texas at your own risk -- at least they do it right.
The Texas fans are now chanting "S-E-C" at the Sugar Bowl

(via @thEMANacho) pic.twitter.com/rdDlN0uSfN

— ESPN CollegeFootball (@ESPNCFB) January 2, 2019
Arkansas-Pine Bluff at TCU: 
this might be the closest they've ever come to capturing College Football in one image pic.twitter.com/ynioidLEu6

— Rodger Sherman (@rodger) December 27, 2018
New Mexico State at Washington State (23): We pass too much, you say? Well, how about this.
Max Borghi named to Doak Walker watch list https://t.co/iwWB6UGlEu

— KLAY STATE FIGHTIN' KLAYS (@CougCenter) July 18, 2019
Zero percent chance, right?
MIKE LEACH BELLY FLOP!

(via @WSUCougarFB)pic.twitter.com/eQsIIkdc2E

— ESPN College Football (@ESPNCFB) August 6, 2019
Bombs away.
Fresno State at USC: Remember when Kliff Kingsbury took the OC job and left right away? That was funny, but USC revealing his martial status on their athletic website was funnier.
Here is what Eric Morris, the head coach at the University of Incarnate Word and a friend of Kingsbury's, told the Los Angeles Times about Kingsbury's off-the-field status.

"It fits his personality a lot more than Lubbock, Texas," Morris said. "He hasn't had a great social life over the last six years living in a small community in a college town. It's hard for him to get out as a head coach and really enjoy himself.

"I think it will be a great change of pace for him and allow him to enjoy life a little bit and not be so consumed with football all the time. And that's what I told him. I said, 'Hey, you need to go out and enjoy yourself, enjoy the beautiful weather and the beautiful scenery and the beautiful women in Southern California.'"
And all that could have been.
Sunday
Houston at Oklahoma (4): paper paper paper
OU, Riley agree on contract extension. #OUDNA #BoomerSooner

https://t.co/XfqWUXXXA5 pic.twitter.com/m8nIlwegiQ

— Oklahoma Football (@OU_Football) January 1, 2019
comedy comedy comedy
need to make a graphic of this for myself when i cancel plans to go out https://t.co/dnlMpNEt59

— Harry Lyles Jr. (@harrylylesjr) January 1, 2019
Monday
Notre Dame (9) at Louisville: It's easy to overlook Notre Dame because of how lifeless they went out, but let's not get it twisted -- this was hilarious.
Spoke to a staff member at Clemson. Tigers prepped for Bama all bowl season & spent just one week on Notre Dame.

Had the confidence to spend much less time on ND & devoted most of December to Alabama. #NationalChampionship

— Cole Cubelic (@colecubelic) January 11, 2019
All kinds of DOA right there.
Loathed friend and Notre Dame fan Z.W. Martin asked if he could preview the ND Nation games in the column this year. I said yes, thinking he'd definitely forget about it. Then he wrote 10,000 words. I promise to limit this for next week. 
Like my last girlfriend, after years of begging, I've finally worn Bobby down. I can't believe Bobby has agreed to let me do this... 

WELCOME TO THE ZYBRID, PAAAAAWWWWLLLLL!!!! 
https://t.co/C7f4X8PZ6s pic.twitter.com/E6JVLuoRrR

— The Yu & Ian Defender (@ZWMartin) August 26, 2019
Brian VanGorder was arguably the worst defensive coordinator in college football. It got so bleak at Notre Dame, a former player on the 1988 National Championship team took a hiatus from fucking BlackRock to help run the defense. It was rumored in Kentucky that VanGorder was hired because he was the only one of their top ten or so candidates that was willing to work on the crashing motorcycle that was Bobby Petrino's second stint at Louisville. This time there wasn't a 25-year-old assistant to ease the fall.

Louisville went 2-10 (0-8 in ACC) in 2018. The highlight of their final seven games was losing to Boston College by 18.

While the Petrino administration is gone, Louisville is still gonna be really bad. Their four year recruiting average ranks them 58th in the nation, between Vanderbilt and Rutgers. Much of their success has been because of NFL-level QBs being able to overcome some wildly weak recruiting classes and talent. Jawon Pass -- easily one of the better QB names in football -- is not that guy. Once a really well regarded prospect, last year's output of 1,960 passing and 93 rushing yards on 76 attempts showed he alone isn't going to carry the mess that has become Louisville football.

As for Notre Dame. Whatever. Growing up an Irish fan really was just an exercise in futility. They won ten games twice in the 18 years between my peak college football fandom years of nine through 27-years-old. They had twice as many seasons under .500. Let talk about streaks. They lost nine straight bowl games. Eight straight to USC. And went 2-6 against Michigan. Oh, wait... one of those wins was vacated.

But, for now, DOUBLE BIRDS!!!
it's wild that, as an ND fan, I can say, "sure, notre dame sucks, but, your team sucks more" to like everybody but like 3 teams.

— The Yu & Ian Defender (@ZWMartin) August 12, 2019
*ENHANCE*
this is a setup to an 8 win season btw

— The Yu & Ian Defender (@ZWMartin) August 12, 2019
They'll be good. They also have no shot at the playoffs, which makes this season, much like college football, meaningless and hopeless.

Spread

I recently got a Bovada account, so I am a degenerate sports gambler now. I am currently 0-1. Spread is currently -20.0 Irish. My only suggestion is to NEVER. BET. AN. IRISH. GAME. They are the least reliable franchise in sports. 

Xanax Threat Level

0 out of

Favorite Image from Bobby & I's Old Blog I Found When Reminiscing About the Good Old Days
* * *
I am so sorry, everyone.
Wrapping It Up...
College football is ready to come back into your life.
I mean.. that's just terrifying pic.twitter.com/pRhlOImuDy

— Jeremy Story Carter (@jstorycarter) February 20, 2019
While you're still living.
Bobby Loesch is a weekly contributor to Go Iowa Awesome. Follow him on Twitter @bobbystompy or email to bobbyloesch [at] gmail.com.