The Hybrid is a weekly Big Ten football preview, plus relevant or whimsy games from the national slate
College football is great bc every guy on the field is the best football player to come out his HS in years or perhaps ever but then you get a matchup where one of the guys is a future 9x Pro Bowler & the other guy is a future litigation attorney and thats when the magic happens

— Beyonce has an uncle named Larry Beyince. Bruh.... (@DragonflyJonez) September 1, 2019
What positions did you picture in this hypothetical? I'm thinking a Jonathan Ogden-type at OT against an undersized DE with considerably less melanin.
Still gotta win that battle, though.
The Hybrid
"There are no heroes in the room"
Marshall at Boise State (24): Kinda cool a true freshman QB took out Florida State at Florida State. It always stings worse when it's a true freshman. The announcers might as well say "That's right, folks -- he's a true freshman! Not only is he so young to barely know what the fuck he's doing, but he basically fell backwards into this uniform, has been on campus for two weeks, and supremely does not know what the fuck he's doing! I mean, a redshirt freshman would also be bad, but this is definitively worse! Your team is shame."
Saturday
Cincinnati at Ohio State (5): Soooo... I hear Justin Fields looked good last week. Just what I hear.
Army at Michigan (7): Michigan is spreading it out, which is good. Their tempo... still lacking. Their two QB package where one guy rocks a receiver glove on just one hand and tries to catch weird short passes... woof.
The brightest spot on offense was probably true freshman RB Zach Charbonnet (of my Big Ten only college fantasy football team). M fans are JOing majorly to him going nine for nine in pass protection, but real ones, like me, are mainly happy he has the potential to be actually good at football.
Also, no idea if this was from last week's Army game or not and went out of my way not to research.
"these edibles ain't shi..." pic.twitter.com/o3Dfjz42gS

— nick (@nick_pants) August 31, 2019
Rutgers at Iowa (20): Gambling is legal in New Jersey, but you cannot bet Rutgers there.
"STOP SCORING U 53.5"

pic.twitter.com/LA0ilee8uO

— Yahoo Sports College Football (@YahooSportsCFB) August 31, 2019
You cannot bet Rutgers there.
* * *
Also, I ate the tape on Iowa-Miami (OH)*, and here were the quick hit thoughts txt'd to my buddies Ryan and Chris.
- Is Sargent, like, the clear RB1?
- The fullback handoff fumble play was amazing
oh Brady Ross no

— Go Iowa Awesome (@IowaAwesome) September 1, 2019
- We throw a ton of fades now!
- Stanley remains an awkward bobblehead of a player; there was a read option he converted for nice yardage that still made me feel like shit
- Both of Gabbert's TDs were sick fucking passes
(* - watched the four minute highlight video Ross posted)
Syracuse (21) at Maryland: This getting dragged restored my faith.
Last year, Maryland OL Jordan McNair died of heat stroke.

He wore #79.

Maryland won 79-0 today. pic.twitter.com/xqsCz8TqU8

— Sports Illustrated (@SInow) August 31, 2019
Vanderbilt at Purdue: Rooting for Purdue, even in better times, remains as bad as ever.
UNREAL FINISH!

Nevada true freshman Brandon Talton nails a 56-yard FG to stun Purdue on the final play of the game pic.twitter.com/ECnq7kPKR6

— SportsCenter (@SportsCenter) August 31, 2019
Maybe this Jeff Brohm XFL video can ground us.
I think about this a lot pic.twitter.com/sEFx3HUbZ3

— Brian Floyd (@BrianMFloyd) August 31, 2019
/eyes widen
Northern Illinois at Utah (13): The Hugh Freeze story -- and ensuing mega memes -- woulda been a lot cooler if it was, you know, anyone but Hugh Freeze.
(Clearly got nothin' on this game.)
Tennessee Tech at Miami (OH): Saw this right before going to bed and really thought Vint was maybe serious here.
A Miami assistant was just explaining the Soulja Boy dance to the offense. pic.twitter.com/fEnOA2Vnse

— Cheese Mountain Pizza Eater (@PV_GIA) September 1, 2019
Texas A&M (12) at Clemson (1): National champion Clemson Tom checks in:
I told you last week we'd put a hurting on the boys from Georgia Tech. This week, we have Jimbo Fisher and the Aggies from Texas A&M. Now, I like Aggie fans -- I went there last year, and they are 100% Southern hospitality. But I can't really understand how they do those cheers because they dance around like little Cinderellas on pixie dust. It's odd man, seriously. 

They've had a few players this week talk some trash saying they're going to roll into Death Valley and put a hurting on my Tigers. So go ahead and put some money on Dabo dropping the hammer like Thor did to Thanos.

Ass whippings are gonna happen Saturday afternoon in Clemson, and the Tigers are handing them out. Come get some, Aggies! Y'all run your mouths like y'all didn't catch an L last year.

I'm pissed.
* * *
Clemson is a 17.5 point favorite, so please do not let the early season rankings trick you.
Central Michigan at Wisconsin (17): It is so hard to appreciate this dude. Am I the problem?
It took less than 5 minutes for Jonathan Taylor to find the end zone pic.twitter.com/f9Nr51sAGb

— ESPN College Football (@ESPNCFB) August 31, 2019
Nebraska (25) at Colorado: Heavily debating backing down from my pre-season Nebraska optimism, but that would make y'all happy, so I won't.
Illinois at UConn: Last week, declared QB Brandon Peters my new favorite Illinois player...
Go crazy, Brandon Peters.

Big start to his #Illini career. pic.twitter.com/eslMuM7DOD

— Illinois Football (@IlliniFootball) August 31, 2019
(lol, not sure you can lob a "go crazy" at someone that didn't break 200 yards)
...but that was because I forgot about fellow Neuqua Valley High School alum Donny Navarro transferring there from Valpo to play WR. While he didn't register a catch, he did win Special Teams Player of the Game.
#Illini Players of the Game | Week 1

OFF QB Brandon Peters
DEF LB Jake Hansen
ST Donny Navarro

Good game, fellas! @Juggs35 | @donnynavarro24 pic.twitter.com/bleYCusUki

— Illinois Football (@IlliniFootball) September 3, 2019
Get 'em, Donny!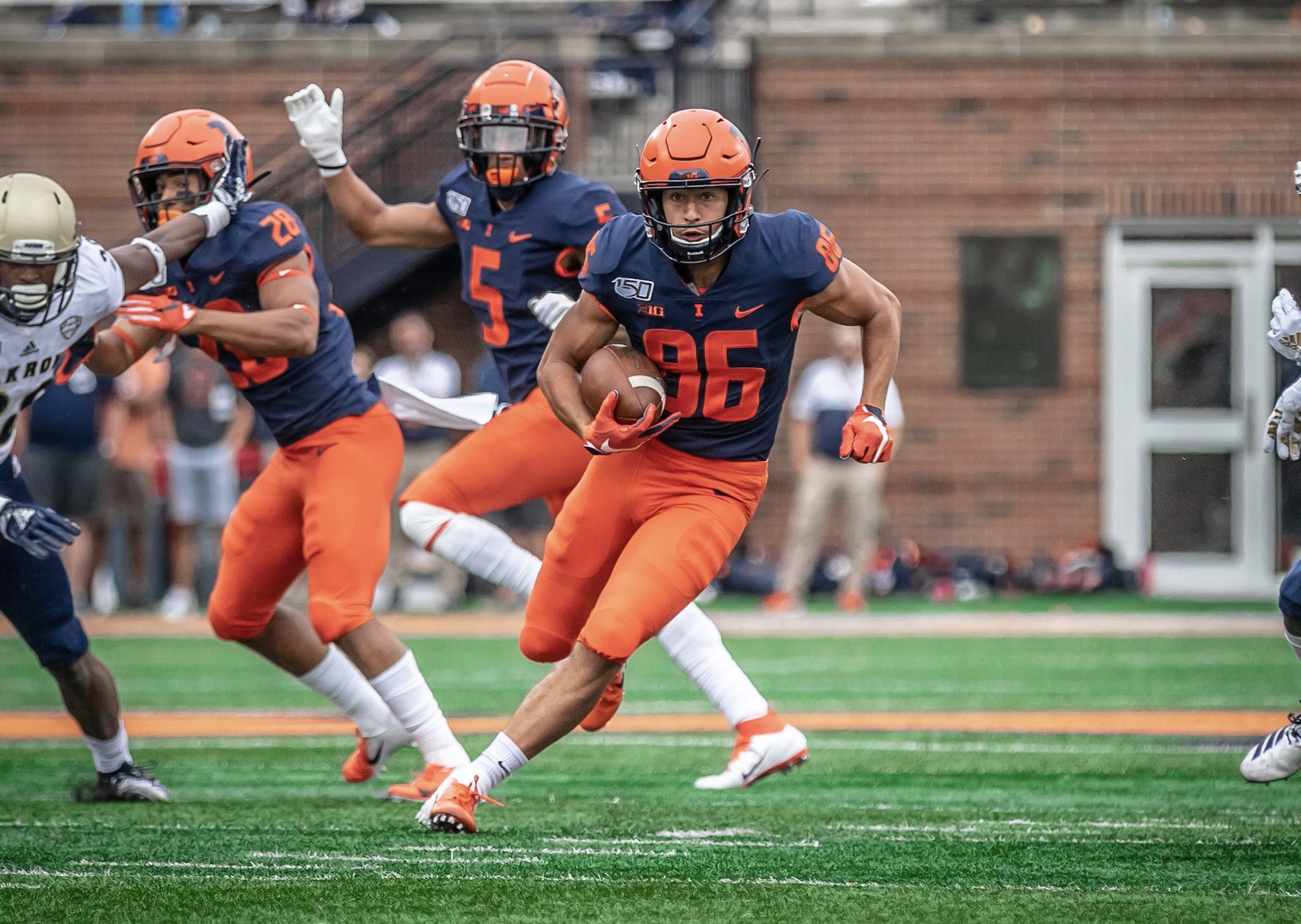 'Ol' Crazy Arm' Peters moves to No. 2 on the Illinois favorites depth chart.
Eastern Illinois at Indiana: Meh.
New Mexico State at Alabama (2): Still not totally used to that No. 2 ranking. Those poor have-nots in Tuscaloosa.
Nice coordination between the play card and the Bottomline here pic.twitter.com/Bj3iqegVAt

— RedditCFB (@RedditCFB) August 31, 2019
Also remain transfixed by TuTa.
Double Tagovailoa Trouble today for @AlabamaFTBL #CFAKickoff

: @grantanicholls pic.twitter.com/GVIc3WPuS4

— RedditCFB (@RedditCFB) August 31, 2019
Murray State at Georgia (3): Did Georgia even play last week?
/looks up
Ha, oh yeah -- they rocked Vanderbilt.
San Diego State at UCLA: This isn't even, like, funny -- it's flat out true.
Nick Nolte is on the UCLA staff? pic.twitter.com/hGh1x2Oo2M

— RossWB (@RossWB) August 30, 2019
Northern Colorado at Washington State (22): A big chunk of my job writing this column is getting y'all up to speed on whoever is calling signals for the Cougs. So let's meet our man.
Someone just asked me to identify Anthony Gordon in pregame warmups.

The TV crews dont know what he looks like.

If that doesnt encapsulate Gordons story, Im not sure what does.

— Theo Lawson (@TheoLawson_SR) September 1, 2019
/taps microphone
OK, I think we're live.
420 yards
83 comp. pct.
5 touchdowns

Quite the starting debut for @WSUcougarFB QB Anthony Gordon. #Pac12FB pic.twitter.com/5G9PXXdAWp

— Pac-12 Network (@Pac12Network) September 1, 2019
He's a senior. I think redshirt. Literally the farthest one can be from TRUE FRESHMAN status, but that's OK. Will try to learn more soon.
South Dakota at Oklahoma (4): 
JALEN HURTS to CHARLESTON RAMBO is just about perfect as far as football names go

— Ricky O'Donnell (@SBN_Ricky) September 2, 2019
You know it's good when Hurts is by far the weaker part of that name combo.
UCF (18) at Florida Atlantic: Mehhhh.
BYU at Tennessee: 
"TODAY'S GAME MEANT MORE TO US!"

Georgia State was hyped after their win over Tennessee pic.twitter.com/031if2xj8U

— ESPN College Football (@ESPNCFB) August 31, 2019
the boat knew pic.twitter.com/krpHjzL5xJ

— RossWB (@RossWB) August 31, 2019
LSU (6) at Texas (9): Game of the Week. LSU is favored by 6.5, but I really like Texas. For sure would grab those points, at the very least.
Coach O, take us out.
This is what autunm sounds like pic.twitter.com/RIiq2Rmb09

— PFTCommenter (@PFTCommenter) September 1, 2019
Tulane at Auburn (10): 
In 2011, Bo Nix watched Auburn defeat Oregon in the BCS National Championship Game.

Tonight, Nix threw the game-winning TD to lead Auburn to a come-from-behind victory over Oregon as a true freshman. pic.twitter.com/8TZlVXtA8U

— SEC Network (@SECNetwork) September 1, 2019
Pretty cool.
Wonderful call by Fowler as well.
AUBURN WITH THE GAME-WINNER!

( @WellsFargo) pic.twitter.com/fAluPd2WkP

— ESPN (@espn) September 1, 2019
UT Martin at Florida (11): Bleh.
Buffalo at Penn State (15): What do y'all think of new PSU QB Sean Clifford? If he's good, my "I hope they fall into a pit" plan could be nixed for the time being. They put up 79 against Idaho, but he only had two of those touchdowns, as it looked like they kinda manged him.
Western Michigan at Michigan State (19): We reconvene with our seemingly annual Sparty psychological deconstruction.
Dantonio: "Football is a game of effort, toughness and knowing what to do. Half of our team figured that out."

— Chris Solari (@chrissolari) September 3, 2019
I wonder if he means the offense or def--
Tonight @MSU_Football defense broke a school record by allowing -73 rushing yards

— Mike Hall (@BTNMikeHall) August 31, 2019
/furrows brow
It very well could be the offense. Well, if Dantonio can get his inferior unit to start holding up their end of the bargain, I'm sure all will be right at MCU soon enough.
Mediocre first quarter for... uh... Michigan College University? pic.twitter.com/kgP6R1oFHx

— Bryan Mac (@Bry_Mac) August 30, 2019
Prairie View at Houston: This is where it has to be asked... could we play QB with this type of coverage?
Houston's DBs are over there, just out of frame, laughing and having fun pic.twitter.com/L7Ds1pvYhg

— Alex Kirshner (@alex_kirshner) September 2, 2019
Also, this should have been in the Texas section, but I wanted to connect the incompetent DB momentum into a little train.
Nooooo!!! Ya cant celebrate while your man is running with the ball. Texas cornerback showing his youth there: pic.twitter.com/YrA7tmrqUo

— Emmanuel Acho (@thEMANacho) September 1, 2019
This is also exactly what I would do, for the record.
California at Washington (14): Nah, Huskies.
Stanford (23) at USC: Who should we make fun of first?
/flips coin
It was heads.
PUNT FROM THE PLUS 34 BY STANFORD.

OH CAPTAIN MY CAPTAIN

— Robby Kalland #BriocheBoys (@RKalland) August 31, 2019
Stanford was heads.
* * *
As for the Trojans... first, a moment of silence for J.T. Daniels and his knee injury. Haaaaaaaaaate losing good QBs.
Aright.
/cracks knuckles
Ain't nothing but a [redacted] thang, bayyybay
Real Gs move in silence like lasagna

pic.twitter.com/tsClnIzl7f

— KFC Radio (@KFCradio) September 1, 2019
An even better rap lyric for the occasion. I really love the announcer telestrating our new G into the wrong spot.
Minnesota at Fresno State: He sucksssssssssssssssss.
PJ Fleck not letting players put their last names on the back of their jerseys to be 'team first' and then plastering his personal catch phrase that helps him sell t shirts all over their helmets is the most egomaniacal thing I have ever seen

— Husk Guys (@HuskGuys) August 30, 2019
Oregon State at Hawai'i: 
We ready @HamilcarRashed #BTD pic.twitter.com/ifgd1BcFJs

— Oregon State Football (@BeaverFootball) August 30, 2019
TURNOVER CHAINSAW YEAHHHHH
Oregon State embracing chainsaws doesn't make sense.

You are the beavers, and you celebrate machinery that performs the function of your mascot far more effectively and efficiently?

— David Ubben (@davidubben) August 31, 2019
Ahh, he's really right.
* * *
No Zybrid this week with Notre Dame on bye, but here was the dumbest tweet I saw all weekend.
You know what is sad? Internet outrage culture has made me afraid to say that I think the ND mascot should always be a midget looking ginger. So Im just not gonna say it. pic.twitter.com/Xr4MnjVdsB

— Dave Portnoy (@stoolpresidente) September 3, 2019
That guy can triple space his way right off a cliff.
Wrapping It Up...
My goodness pic.twitter.com/VFpVZAb1ch

— Brooks Carter (@BrooksACarter) August 31, 2019
Told you college football was coming for all the blood.
Bobby Loesch is a weekly contributor to Go Iowa Awesome. Follow him on Twitter @bobbystompy or email to bobbyloesch [at] gmail.com.