The Hybrid is a weekly Big Ten football preview, plus relevant or whimsy games from the national slate
I didn't even want to talk about Rutgers.
Rutgers joining the Big Ten is one of those things where every single person was like "wait, this is an awful idea, right?" when it happened, and then it turned out to be an awful idea

— Rodger Sherman (@rodger) September 29, 2019
But they just kept coming.
the Big Ten added a bad sports team to its league because it meant millions of people living in a nearby city having the Big Ten's TV network added to their cable bill regardless of whether they cared about the team. They made this cable TV-based decision in 2014

— Rodger Sherman (@rodger) September 29, 2019
They kept coming like a barrage of uniquely shaped snowflakes.
UPDATED: The Big Tens last three expansion additions (Nebraska, Maryland, Rutgers) were outscored 159-7 this weekend.

— Kevin McGuire (@KevinOnCFB) September 29, 2019
It was inescapable.
Iowa doesn't play Rutgers again until 2022

— PlannedSickDays (@PlannedSickDays) September 29, 2019
And often, hilarious.
they could be replacing the guy who replaces ash by then

— RossWB (@RossWB) September 29, 2019
Unrelenting, even.
the most rutgers possible way of drawing a block in the back penalty pic.twitter.com/tHNnT16tgQ

— Ace Anbender (@AceAnbender) September 30, 2019
Not to make light of anyone losing their job...
BREAKING: Chris Ash was fired Sunday as Rutgers head coach in a shakeup that also includes the dismissal of offensive coordinator John McNulty. Nunzio Campanile will take over as interim head coach for the rest of the season. The report: https://t.co/fvF2r1bVBk

— Keith Sargeant (@KSargeantNJ) September 29, 2019
But Nunzio Campanile, really?!
me hearing that Rutgers coach for the time being is named Nunzio Campanile pic.twitter.com/6HMY6pcru5

— Thomas Zambiasi (@tzam2299) September 30, 2019
You alone? All of us.
Oh god, yes, Rutgers wants to hire Greg Schiano again: https://t.co/f76mMUEtgi pic.twitter.com/bFIzYeEcLi

— Deadspin (@Deadspin) September 29, 2019
Almost all of us.
Serious question: is there anything, short of "the stadium gets repossessed," that would cause Rutgers to get kicked out of the Big Ten?

— Ryan Nanni (@celebrityhottub) September 29, 2019
And that's where this barrage ends -- for me, at least. What haven't they done? Outside of some unmentionable Penn State/Michigan State-level scandal.
A scandal in which it embarrasses the league by looking the other way when a high level employee commits serious crimes of a sexual nature in their professional role at the school?

— WOLFMAN 2020 (@jfishernc1) September 29, 2019
Which also got mentioned.
There are too many protections here. It is so incredibly frustrating to see something exist that simply should not exist anymore.
/shakes first at the sky and curses Delany from beyond the grave
/remembers Delany is still the active Big Ten commissioner
WHYYYYYYYYYYYYYYYYYYYYYYYYYYYYYYYYYYYYYY
If the Big Ten conference was personified as a face, Rutgers would perpetually be the beard gap: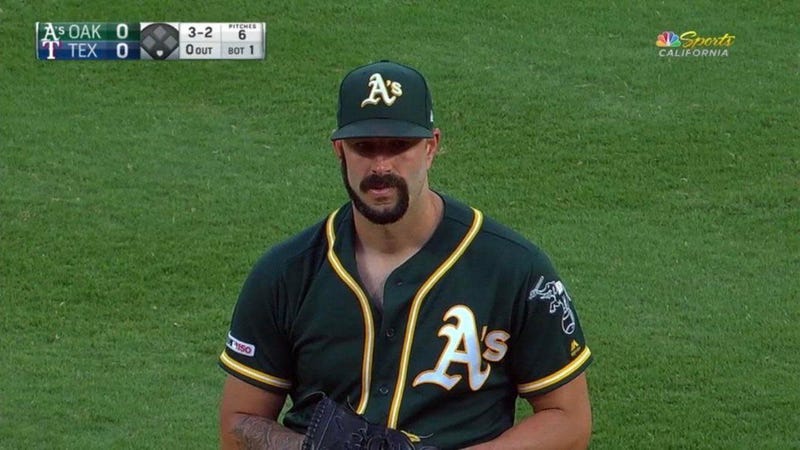 Not only do they not complete the oval -- they burn down the entire left side.
It would be impressive if it weren't so sad and perpetual.
/sigh
The Hybrid
"Cigarettes are undefeated."
Thursday
N/A
UCF (18) at Cincinnati: Woof, UCF came back with a vengeance last week -- yet it still feels like they wear the No. 18 ranking like a tattoo.
Also, I always try to keep the link to the random "Friday Night Lights" picture subtle and understated... but you gotta click this week.
Saturday
Utah State at LSU (5): This throw-shit-at-the-wall style of schedule making we've created now ensures several guaranteed bad matchups each week. I want exclusively excellent conference games only, and I want it now.
Oklahoma (6) at Kansas: ...damn it!
* * *
Also, a wonderful call back to our "non athletic sports skills" discussion:
Lmao pic.twitter.com/55VRH8N8cM

— JTB (@B1ckle) September 30, 2019
Kent State at Wisconsin (8): Haha.
Wisconsin now owns the exclusive right to wear Khakis since they now own Jim Harbaugh after last week. pic.twitter.com/cWyuw8BXXG

— No Huddle College Football (@NoHuddle_CFB) September 28, 2019
Less haha:
AD Barry Alvarez won't schedule teams from Calif. because of new law. https://t.co/dUtGItWndA

— CollegeAD (@collegead) September 30, 2019
It's good to know when people make it very clear they're not good. Dan Wetzel wrote about nine potential effects of how this could change college sports, and this was my favorite:
9. Venmo/GoFundMe

Not everyone is going to get a deal. But every player should set up an account in case they are thrust into unexpected stardom. The anonymous special teamer who blocks a critical punt or a backup point guard that hits a game-winning free throw? Drunk alumni might fill up his GoFundMe in celebration. Same for the wrestler who wins a national title or the cross-country runner who ends up an All-American.
Imagine drunkenly wandering around downtown IC, a Pancheros burrito in one hand, and your phone in the other, as you Venmo Keith Duncan $44.69 because he hit a game-winning 44-yard field goal against, like, Indiana. What a time to be alive.
Punctuation matters. pic.twitter.com/jGH8fKQyEh

— the apocalypse, but fashion (@ElleArmageddon) October 1, 2019
WHAT A TIME.
Purdue at Penn State (12): Sung Rondale's praises as my fantasy team savior last week... then he hurts his leg, leaves the game, and we lose by one. I do not at all mean to turn this into a "guy with real injury leads to fantasy football complaint." This is not about fantasy football. It is about college football. Which is thee worst. Theeeeeeeeeeeeeeeeeee.
Iowa (14) at Michigan (19): Go Hawks. This should probably be, like, a pick 'em, but Michigan somehow opened as a near touchdown favorite. I'll never understand.
Not favored by a TD? This haircut.
just wanted to bring senior kicker Alan Selzer's haircut to your attention pic.twitter.com/7PbU81j9xD

— Dustin Johnston (@DJPhotoVideo) September 29, 2019
Not to be outdone...
Made blocking cool again! Brady Ross is your Football Guy of the Week | #Hawkeyes pic.twitter.com/fLfMszuYMt

— Hawkeye Football (@HawkeyeFootball) October 2, 2019
/shudder
This is one of those pictures where the recruit's parents put on uniforms right? pic.twitter.com/DqQ9j6jOfx

— Jesse Evans (@jevans032) October 2, 2019
Hahahaha.
Complicating matters for this "Game I hate watching but never miss" is a flight out to New York for my friend Paige's wedding (she is a Miami Hurricanes fan who made several appearances in this column over the years). Sure, I'll only miss the first quarter, but I'll be dying to know how we *got* that 3-0 score to start Q2.
I want y'all to know I truly will be rooting for my alma mater.
Can you believe *this guy* is rooting for Iowa on Saturday? pic.twitter.com/HbEMYKAT4l

— Bobby L. (@bobbystompy) October 2, 2019
I even bet on Iowa, though the line dropped to -3.5 (nobody trusts Michigan, from now until forever). Also, fully prepared to catch all of your hate comments when this support unintentionally reverse jinxes the entire enterprise.
Oklahoma State (21) at Texas Tech: Undefeated Okie State, eh?
/looks up schedule
Oh yeah, they lost to Texas. Meh.
Maryland at Rutgers: The Sequester Bowl.
Auburn (7) at Florida (10): Game of the Week. It almost feels like each of these teams has a loss, but no, both are undefeated. Would love to see Auburn take this, so you know what'll happen.
Steve Spurrier walking in & drawing up plays is fantastic pic.twitter.com/Oqz7dSSqbW

— Trey Wallace (@TreyWallace_) October 3, 2019
That's right -- the Head Ball Coach'll scheme 'em to victory with a fine play no one seems to trust.
Bowling Green at Notre Dame (9): Z.W. Martin's Zybrid returns... just in time for Notre Dame to have a very uninteresting game.
ZYBRID

I got frisky in the comments last week. Goddamn college football brings out the worst in people. I love it. I CRAVE IT. The only thing better than random college football hate is Tennessee football hate. They are the worst of the worst. All hail college football hate.

This is gonna be a Virginia QB Bryce Perkins shoutout sesh -- which is now a literal word -- for a second. Dude played the single best half of QB I can remember against Notre Dame. Every read he made was right. Every throw was on the money. The dude balled out. One love, BP3 (a nickname I just made up).

Then the Irish stopped playing man, went 4-3 zone, and absolutely murdered our guy BP3. Such is college football. Even when you play a perfect half of football, or have a 32 point lead [ed- ohhhhh go fuck yourself], nothing is safe. Nothing is sacred. The end of the world is just a play away.
Texas (11) at West Virginia: Can't allow myself to care about Texas until they stack several more wins.
Illinois at Minnesota: Donny Navarro was on bye last week but did make an appearance at the Neuqua Valley-Waubonsie Valley 'War of 204' rivalry game (Neuqua blew 'em out, of course).
* * *
Also -- Minnesota?!
18 undefeated FBS teams remain

Alabama
Clemson
Georgia
Ohio St.
LSU
Oklahoma
Auburn
Wisconsin
Florida
Penn St.
Iowa
Boise St.
Wake Forest
SMU
Memphis
Appalachian St.
Baylor
Minnesota

— ESPN College Football (@ESPNCFB) September 29, 2019
Northwestern at Nebraska: Meh.
Georgia (3) at Tennessee: MEH.
Had a contender for greatest Hybrid comment ever last week (from Herk U Loyd):
I'm sorry but this column just makes no sense to me. Maybe I'm just old and don't get the world of twitter and fb and 3 second sound bites and video clips,but you don't even make any predictions of these games. you seemingly just acknowledge that they are happening.

The rest just seems like incoherent jibberish nonsense and I don't get it.
I'm not sure there is a more accurate way to summarize my decade plus of writing.
So maybe the move is to replace The Hybrid is a weekly Big Ten football preview, plus relevant or whimsy games from the national slate...
...with: The Hybrid is a college football preview that does not make predictions but acknowledges college football games are happening and is incoherent jibberish nonsense which you may not get.
To those who defended the column -- all love; really, really appreciate the support. Reminded me of one of my low key favorite Jay-Z lyrics: "I just wanted to be wealthy / And for somebody to tell me that they felt me".
Change the "and" to an "or", and we're already there.
Michigan State (25) at Ohio State (4): Excellent. Someone lose.
As Michigan State heads to Ohio State this week keep in mind that Michigan State hasn't had a Touchdown since 2016 against the Buckeyes...Total of 9 points in the last two meetings...3 FG...thats IT

— Joel Klatt (@joelklatt) October 1, 2019
...and we know who it'll badly be.
Tulsa at SMU (24): Undefeated Pony Express, baybeeee. Let's do this.
California at Oregon (13): Oregon got named Best Pac-12 Team by Yahoo! last week, and they aren't even in the Top 10. Not ideal.
You: I'm worried about what this California bill will do to college sports
Me: THINK OF THE HILARIOUSLY BAD LOCAL COMMERCIALS WE'RE GONNA GET

— Ryan Nanni (@celebrityhottub) September 30, 2019
Washington (15) at Stanford: Was being all bummed about Harbaugh making the surprisingly short "coach who coaches at their alma mater" list before also noticing David Shaw and remembering this gem from 2016:
Asbolute from coach shaw on @finebaum pic.twitter.com/AdwBVWRpQD

— PFTCommenter (@PFTCommenter) April 11, 2016
Probably right, but you can't go out and say that... or can you, Moon Man?
Boise State (16) at UNLV: Forgot about your unbeaten-ness, Boise State -- PONY EXPRESS 2.0 LET'S RIDE.
Clemson: This was great.
Deshaun Watson 1
Reporter 0

pic.twitter.com/mfB7ROBrAe

— Mike Randle (@RandleRant) September 30, 2019
And he also makes a good point.
Theres this idea that the reporter got owned here.

Except, this is the EXACT kind of answer youre looking for. Thats EXACTLY what you want.

Players often seem annoyed at the idea we want them to actually talk about the game but we WANT these answers. https://t.co/Sa3P4bUN7g

— Hardwood Paroxysm (@HPbasketball) September 30, 2019
Yeah -- learned more from Watson's disdainful, detailed answer than we'll learn from this column all year. I am sorry, Herk U Loyd.
Wrapping It Up...
The end of the world is just a play away.
October 3, 2019
Bobby Loesch is a weekly contributor to Go Iowa Awesome. Follow him on Twitter @bobbystompy or email to bobbyloesch [at] gmail.com.