The Hybrid is a weekly Big Ten football preview, plus relevant or whimsy games from the national slate
Let us never forget who this sport glorifies.
TONIGHT come join @CoachUrbanMeyer and the Fox Sports team for dinner at Urban Meyers Pint House! pic.twitter.com/pce6JeC0Cq

— Urban Meyer's Pint House (@UrbansPintHouse) November 21, 2019
When did "resigning in disgrace" turn into "lucrative opportunity after lucrative opportunity"? That tweet says it all. He gets to own a restaurant and be on thuh teevee.
including: teaching a class on character at ohio state and co-hosting a podcast on leadership https://t.co/nO9U6p17CU

— Ace Anbender (@AceAnbender) November 26, 2019
Obviously we are living in a false reality, but this is a really false reality.
Took care of this minor issue last week @UrbansPintHouse -Needed a bigger sharpie. #7-0 #NoMAllowed pic.twitter.com/e7lyi1WvdW

— Shelley eyer (@spinnershells) October 22, 2019
NOT NOW SHELLEY MEYER GOD DAMN IT
(* - I actually really, really like Urban Meyer)

— Bobby L. (@bobbystompy) December 27, 2009
2009 BOBBY ARE YOU FUCKING SERIOUS
Listen, I know y'all might think I'm harping. He doesn't coach there anymore, it is what it is. No, it isn't what it is. That's what it is. Look at this shit.
Meyer then walked down the aisle from the back to the front of the room amidst applause, hugged his former offensive coordinator, and then addressed the team. Below is his unscripted speech in its entirety.
/sharpens knives on teeth
Humbled to be in front of you again. I've been part of this rivalry since I was this big [holds hand up to waist]. So I get really upset when I see people come into the program and they don't appreciate it, they don't respect it, and, uh, that bothers me.

 
We all say "uh" when we talk as a transitional phrase... but that is a weird spot for an uh.
And I can speak on behalf of you guys who have been here. I cannot speak on behalf of you guys in the back because you don't yet. Some of you know a little bit about it. But this is a rivalry that in the 10-Year War, there was guy named Bo Schembechler who was the coach at the Team Up North, he's actually from Ohio. And then a guy named Woody Hayes, and he was the coach here.
"And you are all 7-years-old, based on the way I am explaining this."
And I lived that rivalry in 1986-87 when I was a coach here and I lived this rivalry away coaching in other places. Came back here and, and I've been at USC vs. Notre Dame, Florida vs. Georgia, Florida vs. Florida State, and all due respect to all of them out there - that ain't anything like this.
/skeptical but allows it
So it really bothered me when I heard a player for the other team come out and guarantee wins, and Revenge Tours, and shit like that, and I remember those days and my head almost popped off my shoulders. That's disrespecting the rivalry. And I think - everyone listen real close, this is in our DNA, this will never change: How do you really show respect for a rivalry?
ohhhhhhhhhhhhhhhhhhhhhhhh all the way go fuck yourself
Think about it. Very simple question, complicated answer. How do you show respect for a rivalry?
Dickhead, you have a "7-0" room at your restaurant and blot out M's like they're gonna give you leprosy.
Is it a tee shirt, is it uh - some guy, that Kamara (Ed. Meyer likely meant Michigan running back Karan Higdon, not Saints running back Alvin Kamara)
"The key to a rivalry is respect. Kamara knows that!"
that asshole that said they were going to win the game and said "I guarantee it" or that defensive end, really good player, Revenge Tour Almost Done so he's going to group us with Wisconsin or Penn State or something like that?
Millionaire adults calling college students assholes: my definition of respectful rivalries.
How do you really show respect for a rivalry? And all due respect, maybe some up there don't understand that. You work that [expletive] every day. Every day. You walk in that staff room - this is for the new coaches, you know who they recruit. You know what they're doing every day. What I ask Mark Pantoni - who are they recruiting? Who are they going after? What is their practice schedule? What are they doing? Are we outworking them?
I mean, you win every year... so, probably?
So I'll say this again. How do you respect a rivalry? You work it every day. You don't shoot your mouth off. If I ever hear, whatever's going on, I hear a player take a shot verbally at them - that's a problem. How do you show respect for a rivalry? You work it every [expletive] day. Not by tee shirts. Not by bullshit.
Karan Higdon just got called a Kamara asshole -- how is this possibly eluding you?!
When I see people giggle about how we don't wear blue in here - I don't laugh about that. We don't have blue pens in here. That's not funny. This is Nike vs. Adidas, this is Coke vs. Pepsi, this is Ohio State vs the Team Up North. This is our livelihood.
Not having blue pens is very much funny.
So if you're new to the program - welcome to the program. Understand where you're at. This is not a game. This is not silly. This is a way of life. There's a bunch of former players in the back [of the room] that lived it. As you move up, you live it. This is who you are.
This is definitely who you are.
You never lose to those pricks. Ever. Ever. And you work it every day. And I don't give a shit if you're from California or Texas or whatever, as soon as you say you're a Buckeye this is part of your life for the rest of your life - and you don't lose to those pricks. You beat them every day. Every day.
And another respectful adjective on the way out.
Don't get me wrong -- I think swearing and potshots and disregard are pretty god damn cool... but his entire speech is built on the premise of measured respect. This man is psychopath.
He's still here even when he's gone.
The Hybrid
"It's all 'ok boomer' until you need someone who can drive stick shift."
Tuesday
Nahhhh.
Thursday
Ole Miss at Mississippi State: The Egg Bowl is all we get on Thanksgiving. College football needs to go at the NFL one of these days.
Iowa (17) at Nebraska: Do you really care about Nebraska this week?
Like, really? How can you? One-sided always takes some stakes away. Lord George Kittle put it best: "Let it be."
George Kittle appeared on SportsCenter with Scott Can Pelt to talk about his excellent game vs Green Bay -- and, of course, to talk shit about Nebraska for Iowa-Nebraska week. pic.twitter.com/SpG2w5lAkm

— Go Iowa Awesome (@IowaAwesome) November 25, 2019
I'd rather pick out helmets.
Today we feature the helmet history of Iowa (Team 29/130). I count 27 helmets (26 pictured and 1 from '18 missing) for @HawkeyeFootball including different ANF logos! @UniWatch @PhilHecken @BHGP@hawkeyenation@HawkeyeReport@bigten@BigTenNetwork#CFB150 pic.twitter.com/jBjzO5XEOM

— Blaise D'Sylva (@wtfcoach) September 21, 2019
I know it's probably recency bias, but it has to be the one from the Ohio State win, no? If not that one, I kinda fuck with No. 21 (the one to the right of the all black helmet).
* * *
Lastly, I need real science to explain how this works.
Watch Iowa Hawkeyes kicker Keith Duncan hold up 3,000 pound OT Tristian Wirfs! pic.twitter.com/PC4GCsvlCb

— Herk (@herkeyjerkey) November 23, 2019
Washington State at Washington: 
Iowas Keith Duncan, who has a national-best 27 field goals, is a finalist for the Lou Groza Award, given to the nations top kicker. Georgias Rodrigo Blankenship and Washington States Blake Mazza are the other finalists.

— Chad Leistikow (@ChadLeistikow) November 25, 2019
Rooting for Keith, everybody chill out.
The Apple Cup has no (/puts on sunglasses) juice this year. Both teams unranked, I have no belief in my team, and we got bowl eligibility last week.
Anthony Gordons got the ball dealing with a 7-10 Split... SPARE!!! #gocougs #bowling #5years pic.twitter.com/4qATLAgUk5

— WSU WR (@wsuWR) November 25, 2019
Eh.
Max Borghi's exit is better than last week's guarantee.
We're talking Apple Cup...
"I will be scoring. A LOT."

SID: "Okay, we're done." pic.twitter.com/l3eXAg8k6N

— Alyssa Charlston (@Alyssacharlston) November 24, 2019
OK, Max -- I see you.
Its been seven years since #WSU has scored a touchdown in the first quarter of the Apple Cup a stretch thats seen #UW outscore the Cougars 52-6.

So, early success on offense would be key to the Cougars ending their drought in the rivalry game.https://t.co/BYdYAKktGC

— Theo Lawson (@TheoLawson_SR) November 26, 2019
First quarter no touchdown streak, I very much see you.
Saturday
Ohio State (1) at Michigan (13): My heart just fluttered, looking at those names next to each other for the first time. I am thee fucking worst. Still, a lot to discuss here.
First and foremost: ohhhh, these fucks.
A reminder to Buckeye Twitter this week:

Ctrl-F
"m"

— Bryan Mac (@Bry_Mac) November 25, 2019
They fail with this so regularly.
Let's get another shot in:
I'd venmo him $500 and call the NCAA https://t.co/jfNUUsbGvF

— Rodger Sherman (@rodger) November 23, 2019
Hahaha.
/minion whispers in ear
Ah -- he's back, I see. So... what's it gonna take to win?
To beat Ohio State, you need to make these kinds of plays ALL DAY long pic.twitter.com/PU6mwQY71g

— Due# (@JDue51) November 24, 2019
That seems like a lot. Unless...
Me watching your 1997 Charles Woodson vs Ohio State highlights and thinking we absolutely could beat them again pic.twitter.com/HgUgUSUYTk

— Noah Neidlinger (@candor_for_sale) November 22, 2019
No. No, no, no. Can't let it happen.
As some of you may know, after last year's 60+ scoring binge, I decided not to follow Ohio State in any capacity this year because everything means nothing going into The Game. Believe it or not, I held true to this goal. Sure, I know Fields exploded, Dobbins is crushing it on the ground, and Chase Young is somehow a better version of the very gross Bosa brothers. But that's it. Couldn't name a WR or anyone else on their defense, not sure what their supposed "weaknesses" would even be. Everything will come as a delightful surprise. I want to purely experience this death.
What's even weirder... if you allow yourself to exist in a universe where Michigan wins -- would Ohio State still probably make the Playoff anyway? Could very easily see that happening.
/prays to the god of Kamara for blessings and safety
Clemson (3) at South Carolina: Clemson Tom was put on this earth for HATE WEEK. Here is his preview of Clemson-South Carolina.
I'm not sure why this entire fanbase somehow recruits the most vile people in the world. South Carolina somehow always seems to do that. 

I know everyone has those "bad apples", but the Gamecocks seem to always have an orchard. I know I usually bring it upon myself, but the only fanbase to ever give me death threats and my son death threats was the Gamecocks. 

I've never met people that are so complacent and excited to be mediocre for their entire lives... except for maybe six good seasons out of over 100, they've accomplished absolutely nothing. Nothing!

They were so excited when they hired Will Muschamp to be their coach, knowing all he ever did was ruin the University of Florida for almost a decade. Now they wanna fire him, that athletic director, the waterboy, and I think they even wanna replace the mascot at this point.

Who the hell they think they're going to get to be the next head coach? Who in the hell wants to go coach that dumpster fire of a program? It's a place where coaches go to die. Speaking of getting killed, we are going to hang over 50 points on that atrocious defense they have. 

These people are the worst kinds of people in America. Think about the worst person that you could possibly see at Walmart at 2:15 a.m. That person has a little bit more class than the Gamecocks.

I wish I could explain more on how bad I completely hate their fans, but I don't think I can describe it in words. I can't express how bad of people they are. Just google "gamecock tailgate" and you'll see fighting, openly drunken sex. It's insane. You shouldn't have to get your medical records updated in multiple tetanus shots just to go to their tailgates.
Haha, and that was that.
Georgia (4) at Georgia Tech: Georgia's mascot is __ times more entertaining than Georgia football.
a stunningly accurate representation of the inside of my brain pic.twitter.com/NsoJZDcdni

— Katie Nolan (@katienolan) November 24, 2019
Louisville at Kentucky: Look at this shit.
The Papa John interview is lovely pic.twitter.com/bpDMDm9t9G

— Timothy Burke (@bubbaprog) November 26, 2019
His voice is a lot deeper than I expected. Also, is he always sweaty so his hair looks sweaty, or does he use some type of product in his hair that makes his face look sweaty? Like his weird claims, there are more questions than answers here.
I just want to point out the speck of dried blood under papa js nostril. pic.twitter.com/Fkxghdy7Hu

— netw3rk (@netw3rk) November 26, 2019
Even more.
Northwestern at Illinois: Told y'all to be ready for Donny, didn't I? I'm not even sure he got covered here.
Donny Navarro (@donnynavarro24) getting started early against Iowa. pic.twitter.com/7uoHB8rTiw

— Neuqua Valley Football (@NVHS_Football) November 23, 2019
It qualifies. One final time:
Here's to two more healthy, productive seasons.
Indiana at Purdue: This seems like a boring disaster, so let's talk about my Big Ten only college fantasy football league. We... made the finals on some total bullshit!
NICO I WILL LOVE YOU FOREVER pic.twitter.com/SStBEcE56V

— Bobby L. (@bobbystompy) November 24, 2019
After squeaking into the playoffs with a 5-6 record, we took out the No. 1 seed by one point and caught an uncountable amount of breaks. I'll let the losing owner break it down in the way only a losing owner can.
After the game, I threw out all my son's Clifford books. What a wuss. Your team has a chance to win the Big Ten East and go to the Playoff. You get injured and could comeback, but don't. How is that decision made? I get that the backup moved the ball, but it's my QB1 -- you gotta stick with him.

Couple other moments:

- Fucking Dobbins fumble takes away two points. Results in loss. Whose fault is it? Jim Tressel and Urban Meyer. [ed- I can get on board with this logic]

- Nebraska benches a kicker they have been waiting for all year at the last minute. This in hopes of redshirting him. Redshirting a fucking kicker ... What happens? Backup kicker scores like 9 points in a 52-0 rout. Thing is, not even the backup, this kid hasn't kicked once all year. 

- Finally, in a glimmer of hope, Wisconsin WR scores a late TD which I legit thought was for 14 yards. Would have brought him to 80 yards and a TD and 14 league points. But no it was 13 yards so stuck at 79 and a TD or 13 points one mother fucking point short.

- Finally a legit conversation I had on Sunday night with my father-in-law (a Michigan fan): "Your fucking team screwed me over in a big ten fantasy football league. Harbaugh [ed- Patterson?] throws for 5 TDs." His response in monotone: "Go Blue." 

No remorse, stone killer response. 

* * *

Unreal. I love this league. 
We will have a Hybrid reader join this one day. Ohhhh, it'll be so great. Then you'll really know.
Even funnier about Nico Collins going off is he is part of a lauded recruiting class (the Oliver Martin one!) that included his 4-star self, 4-star Tarik Black, and 5-star Donovan Peoples-Jones. Had any of these dudes, despite all mostly playing regularly, broken 100 yards individually even once in three years until that Indiana game? No. As damning of a Harbaugh failure stat as I've seen.
* * *
Looking ahead to the finals... my tOSU co-owner and myself are going against Fields and a ton of Iowa guys. We are playing Brian Crooks, who posts as MidnightBlueSix on Hawkeye Report, if you ever wander over to those parts. 
I've mapped out a success scenario and did a breakdown here (we're on the left).
Now is probably a good time to mention the league also heavily favors good QB performances with the scoring. Stanley. Fields. LET'S DO THIS.
Find yourself someone who's happy for your accomplishments the way DPJ is happy for Nico Collins scoring his 3rd receiving touchdown.

FINAL SCORE: Michigan defeats Indiana 39-14 pic.twitter.com/Td7mWVgSjG

— Patrick Barron (@BlueBarronPhoto) November 23, 2019
NICO WE NEED IT AGAIN
The Hoosiers didn't stand a chance on Nico Collins' breakaway TD

( @exxonmobil) pic.twitter.com/cZDNCTzfPE

— Bleacher Report (@BleacherReport) November 24, 2019
One final shout to the Indiana defense -- basically felt like I was sitting on this chair when it was all said and done.
.@nocontextcfb pic.twitter.com/kvpIYlZdnn

— Patrick Barron (@BlueBarronPhoto) November 24, 2019
Alabama (5) at Auburn (15): Game of the Week. As I was telling my dad, who is a big Bama fan, this game is interesting no matter what.
Auburn wins, and Alabama is knocked out of the Playoff for the first time ever
Alabama wins close, and the debates rage on
Alabama wins in a blowout... and things get really interesting
My dad likes the Tide because he thinks the WRs -- who have gobs and gobs of talent -- can lift up QB2 Mac Jones. I like Auburn, though. It's such a tough road start.
Rutgers at Penn State (10): Score early and often, Penn State. We need that kicker bootin'.
Also, remember that Rutgers cop named Kenneth Cop? FSU would like a word.
@edsbs @jasonkirksbn @HollyAnderson @celebrityhottub @ShutdownFullcas the current head of the Tallahassee police department is Interim Police Chief Steve Outlaw. https://t.co/v7GIR2YW7n pic.twitter.com/mXF5KHTPSe

— StrikerObi (@StrikerObi) November 25, 2019
Wisconsin (12) at Minnesota (8): Are there title game stakes here? Wait, I don't care at all. Although a Jonathan Taylor Thomas rematch against tOSU would be nice. You don't see 2.6 YPC every day.
Maryland at Michigan State: Went through the list and forgot to include this the first time through. Which makes the content that much more relevant.
With @CollegeGameDay headed to Minnesota next week, there will be only 9 Power 5 schools from which the show has not originated - Syracuse, Wake Forest, Duke, Virginia, Kansas, Maryland, Rutgers, Illinois and Cal.

— Chris Fallica (@chrisfallica) November 24, 2019
Notre Dame (16) at Stanford: David Shaw is not eligible for a bowl game, and Z.W. Martin is still banned from this space until 2020.
/lights cigar with hundred dollar bill
Texas A&M at LSU (2): It's time to use Johnny's last year of eligibility. A&M becoming pedestrian ended up being worse for college football than Texas losing national relevance. Who saw that coming?
Can't bring an L to a J fight.
A pretty clear pattern exists with all of LSU's big skill position players this season: their names all start with the letter J. I mean, look at this:

-Joe Burrow
-Ja'Marr Chase
-Jclyde Edwards-Helaire
-Jthaddeus Moss
-Justin Jefferson

— Gumbo Weather Zach (@zrau) November 25, 2019
Also, no idea who this is, but his name has to start with a J.
Sir, its time to leave the club pic.twitter.com/Db7Gu9mNLD

— Geoff Schwartz (@geoffschwartz) November 24, 2019
Or P.
Also, how amazing would sports be if people talked like this all the time?
Coach O is a gangsta. Said this with a straight face. pic.twitter.com/SYihg92n4W

— Bonta Hill (@BontaHill) November 24, 2019
Colorado at Utah (6): Really didn't think this pic was all that great... until I noticed the ref.
November 24, 2019
Oklahoma (7) at Oklahoma State (21): Keep your head down and work, OU.
Wrapping It Up...
Urban Meyer calls his 7-0 record against Michigan his greatest accomplishment, calls Michigan's antics in 2016 "disrespectful" and says the 2016 game is the hardest he's coached. https://t.co/0fFBVgsIo2

— Eleven Warriors (@11W) November 26, 2019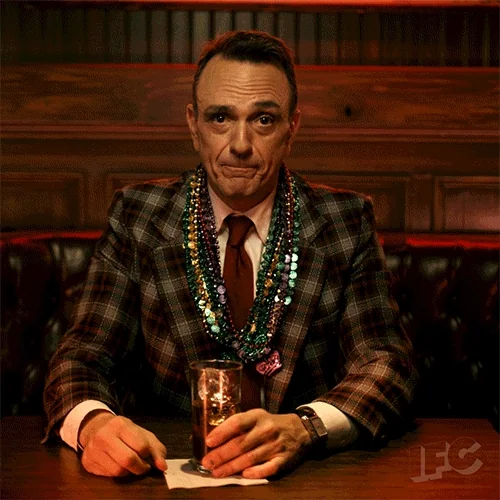 Bobby Loesch is a weekly contributor to Go Iowa Awesome. Follow him on Twitter @bobbystompy or email to bobbyloesch [at] gmail.com.