Positional Awareness is our annual rundown of the Iowa depth chart, from the position where we are most confident in what Kirk Ferentz intends to do, to, well, running back.
Previously on Positional Awareness:
Eligibility Remaining
 
 
No.
Player
Year
Ht/Wt.
Position
2018
2019
2020
2021
2022
37
Brandon Snyder
SR
6-0/214
Safety
 
 
 
 
 
30
Jake Gervase
SR
6-1/212
Free Safety
 
 
 
 
 
27
Amani Hooker
JR
6-0/210
Strong Safety
 
 
 
 
 
1
Wes Dvorak
JR
6-0/197
Safety
 
 
 
 
 
41
Colton Dinsdale
JR
5-11/215
Safety
 
 
 
 
 
18
John Milani
JR
6-0/201
Strong Safety
 
 
 
 
 
9
Geno Stone
SO
5-11/201
Free Safety
 
 
 
 
 
6
Max Duchow
FR (RS)
6-1/186
Safety
 
 
 
 
 
28
Jack Koerner
FR (RS)
6-0/200
Safety
 
 
 
 
 
 
Julius Brents
FR
6-2/180
Safety
 
 
 
 
 
 
Dallas Craddieth
FR
6-0/197
Safety
 
 
 
 
 
 
Jaden Snyder
FR
6-1/205
Safety
 
 
 
 
 
To say that Iowa's safeties were banged up last season would be a bit of an understatement: at one point or another, Iowa lost three starters to injuries in 2017. Brandon Snyder entered the season injured, finally started week six against Illinois, and tore his ACL for the second time. Miles Taylor was banged up most of the season and ultimately had to miss the Pinstripe Bowl. Amani Hooker, who was frequently called on to fill in the gaps left by these injuries was eventually injured himself, missing the final three games of the regular season. Iowa has experience and talent at safety, yes. But they need to stay healthy to cancel out the inexperience at cornerback.
The Next Man In

FS #1: JAKE GERVASE (#30, Senior, 6'1, 210 lbs., Assumption, Davenport, IA)
Gervase's journey to becoming a starter would be abnormal for many FBS programs, but not for the Hawkeyes. Much like Greenwood before him and just like Brandon Snyder, Gervase played quarterback and safety in high school. He received an offer from Air Force and considered walking on at Boston College to join his brother, yet ultimately decided to stay close to home and walked on at Iowa. He redshirted his freshman season and saw time on special teams his first two eligible seasons. In 2017, he suddenly found himself on top of the depth chart thanks to Snyder tearing his ACL and promptly won the defensive Jay Scheel Award for Spring Game Excellence Presented by Don Nordmann by notching three interceptions.
What do you know? A walk-on ended up starting at safety for the Iowa Hawkeyes.
Unfortunately, in a somewhat expected development, Gervase didn't look so hot. After playing well against Wyoming, he struggled noticeably against Iowa State and early on in the North Texas game Ferentz had finally seen enough, replacing Gervase with Amani Hooker, who looked far more athletic and capable in the backfield. He lost out on starts the next three games but when Snyder tore his ACL against Illinois, Gervase once again found himself topping the depth chart and closed out the season as Iowa's starting free safety.
After his relegation to the bench in mid-September, Gervase looked far more competent as a starter in late October. A way to look at his stats is how he performed in comparison to the guy he replaced: Brandon Snyder. In 2016, Snyder started all 13 games and amassed 85 tackles, 3 TFL, 3 interceptions, 4 pass deflections and 3 forced fumbles. In 12 games, including 10 starts, Gervase amassed 58 tackles, 3 TFL, 3 interceptions and 6 pass deflections. Relative to starts and not counting the forced fumbles, those are very similar stats.
In short, Gervase is a comparable replacement to Snyder. He's not exceptionally athletic or an electric playmaker but his tackling ability and coverage skills improved as 2017 progressed. The question for Gervase may be: What if Snyder comes back healthy? Does Snyder take his job back? Or does Gervase hang on? Is it time for Ferentz to be fired? We'll see how it plays out with Snyder's health.
The Savage Back

SS #1: AMANI HOOKER (#27, Junior, 6'0, 210 lbs., Park Center, Minneapolis, MN)
Obligatory:
Listen, I'm not saying that Amani Hooker singlehandedly beat Ohio State. I'm not saying that. I will say that Ohio State, as mighty as they were (and are), was probably wary about playing a night game* at Kinnick because, y'know, bad things usually happen to ranked teams in night games at Kinnick, and was counting on a sustained first drive to calm their nerves. Instead, on the very first play of the game, Hooker pounced on a J.T. Barrett pass and took it to the house. Not even 10 seconds into the game, The Ohio State Buckeyes were reeling, and Hooker was to thank. The Buckeyes never recovered.
(* Late afternoon, technically, but hey.)
Hooker's ascent to stardom didn't come as a surprise to anyone around here. You probably don't remember that he wasn't a super recruit with an offer list a mile long. He was your average three-star kid with a light offer list and some interest from his in-state school of Minnesota. Yet, Ross, in his infinite wisdom, named Amani Hooker as the recruit that he was most excited about in 2016. I don't remember if I was so high on Hooker (lol high on Hooker). I was probably in the Alaric Jackson boat.
Regardless, Hooker was notable because his highlight film was just so ridiculous. Even more ridiculous than highlight films usually are. He looked like an athlete. Plain and simple. The type of athlete that Iowa hadn't seen at safety since the days of Tyler Sash. The coaching staff must've seen it too, which is why he didn't redshirt as a true freshman. Instead, he saw action in all 13 games, primarily on special teams. In 2017, when Snyder tore his ACL, Gervase and Hooker fought for the free safety spot and in typical Ferentz fashion, experience won over talent.
Not for long, though. Gervase was benched by week three and Hooker started the next two games. In his very first game as a starter against Penn State, the #8 team in the country, he was electric, notching 13 tackles and a pass deflection. He almost singlehandedly won the game for the Hawkeyes, nearly disrupting a Trace McSorley pass on the final play of the game. When Snyder came back for Illinois, Hooker was relegated to the bench until Miles Taylor left with an injury and Hooker once again showed off with 6 tackles and an interception. With that, Hooker clinched the starting strong safety position against Northwestern, Minnesota and Ohio State. He missed the last three games with an injury himself and returned against Boston College in the Pinstripe Bowl, where he led the team with 12 total tackles.
Somehow, Hooker was even more impressive this spring. He picked off Nate Stanley. He deflected another pass to set up a Gervase interception. He forced T.J. Hockenson to fumble.  Amani Hooker is a ball-hawking playmaker and Iowa's best defensive back. I made the comparison to Tyler Sash because that's the type of player he is. He isn't the type of player to wait for the ball to come to him. He goes and gets it. His junior campaign should be an exciting one.
While You Wait For The Others

FS #2: GENO STONE (#9, Sophomore, 5'11, 209 lbs., Senior, New Castle, PA)
One of the major beneficiaries of Iowa's injury woes last season was Geno Stone, who saw a solid amount of playing time as a true freshman. A consensus 3-star recruit, Stone graduated from New Castle Senior High School in Pennsylvania (same school as Malik Hooker) and had offers from a number of Group of Five teams. He'd previously committed to Kent State but jumped ship when Iowa called (as most do). Soon after arriving on campus, he was working with the second team, foreshadowing that a redshirt wasn't in the works. Sure enough, it wasn't.
Stone saw most of his work on special teams but also rotated in when [insert Iowa safety here] missed some time due to injury. The best performance of young career came against Nebraska when Miles Taylor had to leave the game due to injury, and Stone finished the game with eight tackles. He also showed excellent anticipation on routes and disrupted Nebraska's passing attack across the middle. Bobby La Gesse put together an excellent write up on Stone's performance against Nebraska, including this highlight: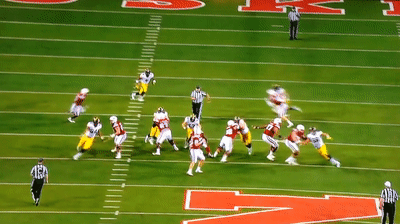 From a physical standpoint, Stone arrived at Iowa ready to play football. As the season went on, he gained more experience, culminating with his Nebraska performance. Gervase was much better following his benching and looks like a reliable option at free safety. Should he struggle, Stone (or Snyder) will be waiting.
SS #2: JOHN MILANI (#18, Junior, 6'0, 201 lbs., West, Iowa City, IA)
On one hand, you could be skeptical about seeing Milani's name on the depth chart. The Iowa City West product walked on in 2015, redshirted, didn't see any action in 2016 and only played in three games last season. In his two eligible seasons of being with the program, he has one tackle. Those are reasons to be skeptical. On the other hand, how is his story any different from Gervase or Snyder? Maybe the coaches see something in him? Or maybe he's just filling in a spot until Snyder comes back? We'll see.
The Forgotten Man

BRANDON SNYDER (#37, Senior, 6'0, 214 lbs., West Lyon, Larchwood, IA)
We come now to the forgotten man. A product of West Lyon High School and winner of nearly every award bestowed upon a high school football player, Snyder walked on, redshirted, and saw heavy playing time his first year of eligibility. By his redshirt sophomore season, he was Iowa's starter at free safety. The first half of the 2016 season was bumpy…to say the least. Everyone knew Snyder was a walk-on with little experience, so they attacked him. He frequently found himself out of position, struggled to recover and missed a number of tackles. He looked very much like a walk-on with little experience.
Fortunately, he progressed as the season went on and by the end of 2016, he led the team in forced fumbles (3), tied for interceptions (3), and was third in tackles with 83. He'd overcome the growing pains and was set to be a reliable option at safety in 2017.
Until he tore his ACL during spring practice and missed the first five weeks of the season.
After six months of rehab he was medically cleared to return against Illinois and didn't miss a beat against the Fighting Illini, picking off Jeff George Jr. and taking it to the house (this video also has a sad Jeff George Sr. so I suggest you watch it):
Things looked up for Snyder.
Until we found out he re-tore his ACL and would be out for the remainder of the season.
Snyder didn't want to hear that, though. He wanted to fight back and circled the Ohio State game three weeks later as a potential return date.
He then tore his ACL completely and suffered meniscus damage.
In December, Snyder made the incredibly boneheaded decision to get into a car and to drive while intoxicated. He pleaded guilty in early February and received the mandatory minimums for the offense.
In short, 2017 was a very bad year for Snyder.
We're expecting Snyder to be healthy this fall but he'll likely have to work his way out of the doghouse thanks to his OWI conviction. He's Iowa's most experienced safety on the depth chart and while he isn't the most talented, he's still one of the best options on the board. The problem for Snyder is: where does he fit in? Gervase is solid at free safety. Hooker is too talented to keep off the field, in either position. Stone is also making noise. If Gervase struggles does Stone take his place? Or does Snyder?
I'm of the opinion that if Snyder comes back and looks his old self, he'll supplant Gervase and Stone will have to wait until 2019. The return of Brandon Snyder might be one of the better feel-good stories of the Kirk Ferentz era…should it play out as we hope.  
The Other Guys

WES DVORAK (#1, Junior, 6'0, 197 lbs., Parkston, Parkston, SD)
COLTON DINSDALE (#41, Junior, 5'11, 215 lbs., Gladbrook-Reinbeck, Reinbeck, IA)
JACK KOERNER (#28, Junior, 6'0, 200 lbs., West, Iowa City, IA)
MAX DUCHOW (#6, Redshirt Freshman, 6'1, 186 lbs., Kettle Moraine, Pewaukee, WI)
Dvorak, Koerner, and Duchow are all walk-ons that redshirted their freshman seasons. Dvorak finally broke through on special teams last season, playing in all 13 games. You're probably not going to see him on the safety depth chart at any point in his career but he's obviously making enough of an impact to see steady playing time.
Colton Dinsdale is also a walk-on, but he has a different story. He originally attended Iowa Western CC, where he played inside linebacker. He suffered an injury his freshman season but as a sophomore, he earned second-team all-region honors from the ICCAC and was named to the NJCAA All-Academic team. Reese Morgan offered him a preferred walk-on spot and Dinsdale, a lifetime Hawkeye fan, jumped all over it. He could find himself fitting in on special teams as well.
They Were Only Freshman

JULIUS BRENTS (Freshman, 6'2, 180 lbs., Warren Central, Indianapolis, IN)
DALLAS CRADDIETH (Freshman, 6'0, 197 lbs., Hazelwood Central, St. Louis, MO)
JADEN SNYDER (Freshman, 6'1, 205 lbs., West Lyon, Larchwood, IA)
Brents and Craddieth are both 4-star recruits and arguably the best players in Iowa's class of 2017. Brents is a graduate of Warren Central High in Indianapolis (not Harding, Ohio, where the Daniels brothers went) and chose Iowa over Michigan State, Indiana, Purdue, Syracuse, and Vanderbilt. Craddieth is a graduate of Hazelwood Central, the alma mater of Marvin McNutt, and picked the Hawkeyes over Wisconsin, Michigan State, Kentucky, Ole Miss, and Vanderbilt. They are both tremendous talents and could be starters in the future but Iowa is very deep at safety right now, so there's a question as to whether or not they'll even see playing time this season. Snyder, Stone and even Milani would probably come off the bench before Iowa started looking at true freshmen.  Redshirts are probably in the works.
Same goes for Jaden Snyder, who passed up on three full-ride scholarships from FCS schools to fulfill his dream of playing alongside his brother, Brandon. It wasn't an easy path, though.