Positional Awareness is our annual rundown of the Iowa depth chart, from the position where we are most confident in what Kirk Ferentz intends to do, to, well, running back.
Previously on Positional Awareness:
Eligibility Remaining
 
 
No.
Player
Year
Ht/Wt.
Position
2018
2019
2020
2021
2022
11
Michael Ojemudia
JR
6-1/199
Right Cornerback
 
 
 
 
 
8
Matt Hankins
SO
6-1/185
Left Cornerback
 
 
 
 
 
4
Josh Turner
FR(RS)
6-0/188
Cornerback
 
 
 
 
 
3
Trey Creamer
FR(RS)
6-0/190
Left Cornerback
 
 
 
 
 
 
D.J. Johnson
FR
6-0/170
Cornerback
 
 
 
 
 
 
Kaevon Merriweather
FR
6-2/195
Cornerback
 
 
 
 
 
 
Terry Roberts
FR
5-10/171
Cornerback
 
 
 
 
 
Here we go again. This is the second straight year Iowa has to replace a first-team All-American cornerback. And unlike 2016, when Iowa knew that they'd be without Desmond King the following season, Ferentz has to replace Josh Jackson, who (rightfully) entered the NFL Draft as a junior. What's more, the roster looks considerably different than last season. In 2017, Iowa had nine cornerbacks on their spring roster. Since then, Josh Jackson declared for the NFL Draft, John Milani moved to safety, Manny Rugamba transferred, Cedric Boswell transferred and Camron Harrell moved to running back. This only leaves Michael Ojemudia, Matt Hankins, Josh Turner and Trey Creamer with any sort of experience.
The good news is that Ojemudia and Hankins, who are projected starters, saw a significant amount of playing time last season. Trey Creamer is a playmaker in waiting. Most importantly: Iowa landed some key defensive back commitments for the class of 2018 and if there's one thing we've learned over the past decade it's that Phil Parker can develop good players into elite ones. Since 2010, he's put five cornerbacks in the NFL Draft. Just like at safety, Iowa has gifted players competing for starting positions and has a breadth of talent in waiting. It's up to Parker & Co. to find out who is the best option and develop yet another first-team All-American cornerback.
The New Boss, Same as the Old Boss
RC #1: MICHAEL OJEMUDIA (#11, Junior, 6'1, 199 lbs., Harrison, Farmington Hills, MI)
'Member when Michael Ojemudia was actually Iowa's starting cornerback? I 'member! After redshirting his freshman season, he saw action in all 13 games in 2016 and entered 2017 as Iowa's starting cornerback. Following week one, Manny Rugamba took over the starting job and was promptly abused by Iowa State (in fairness, everyone else was too). Ojemudia supplanted Rugamba to start against Michigan State and, well, we all know what Felton Davis III did to him. The round-robin finally ended when the coaches stuck with Rugamba (or Hankins) following week six and Ojemudia spent the rest of the season coming off the bench.
That in mind, Ojemudia entering the spring as the #1 cornerback was telling. With Jackson's departure, Hankins was a shoe-in for starter and we expected the other spot to go to Rugamba by default. Or not. Ojemudia won out and Rugamba ultimately decided to transfer.
What do we know about Ojemudia? The same things we knew about him when he was recruited as a linebacker/safety. He's one of the biggest cornerbacks on the roster and can lay the wood when he needs to. But the problem last season wasn't his physicality. It was him being out of position. It's tough to challenge the ball when you're literally in no position to challenge the ball because you're 7 yards away from the wide receiver.
The good news is that he's hungry and recognizes that there are a lot of guys on the roster who can challenge him. He's also been studying how Josh Jackson played last season. And if Ojemudia can make even half of the leap that Jackson did from his sophomore to junior season, he'll be a more than serviceable cornerback.
Confidence Man

LC #1: MATT HANKINS (#8, Sophomore, 6'1, 185 lbs., Marcus, Flower Mound, TX)
Out of the Ojemudia and Rugamba scrum emerged true freshman Matt Hankins, a one-time three-star recruit that chose Iowa over the likes of Michigan, Missouri, Illinois and a number of other Power 5 schools. Prior to setting foot on campus, he was asked by Hawkeye Report what his goals were for his freshman year. Was he hoping to play or expecting to redshirt? His response?
My goal is to start as a freshman.
Not just play as a freshman. To start as a freshman. The confidence of this kid.
With the relative depth at corner heading into 2017, that seemed like a long shot. Then, guys in front of him not named Josh Jackson struggled and as the season wore on, Hankins saw an increase in playing time. Finally, against Nebraska, he earned his first career start. As a true freshman. Matt Hankins had arrived. He didn't make any spectacular plays, but he did have a nice pass break-up against De'Mornay Pierson-El: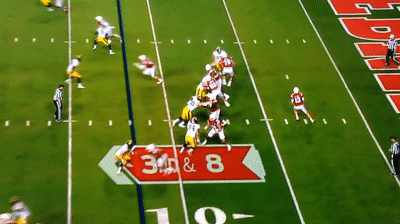 He followed it up with an outstanding performance in the Pinstripe Bowl, where he amassed seven tackles and a pass break-up.
Like Ojemudia, Hankins has a big frame and is a physical cornerback. Unlike Ojemudia, Hankins wasn't thrown to the wolves and had the fortune of starting against a bad Nebraska squad and a Boston College team that relied on the run. His performances in limited action were impressive but remember: it was limited action. Hankins may very well be Iowa's next superstar cornerback. It's just too early to tell.
While You Wait for the Others

LC #2: TREY CREAMER (#3, Redshirt Freshman, 6'0, 190 lbs., Cartersville, Cartersville, GA)
JOSH TURNER (#4, Redshirt Freshman, 5'11, 188 lbs., American Heritage, Delray Beach, FL)
With the fluid situation at corner in 2017, it was somewhat surprising that it was Hankins, not Creamer, who emerged as the third option. Then again, maybe Creamer was always supposed to redshirt. A three-star recruit, he chose Iowa over Minnesota, Rutgers, Cincinnati, Kansas State, Michigan State and a number of other Power 5 programs. When he arrived on campus he weighed fewer than 170 pounds, which is probably why the redshirt was in the making. His attitude heading into his redshirt freshman season is nothing short of wonderful, though. When interviewed by his hometown newspaper, Creamer said:
"It's definitely amazing just to be at a major college institution where they do put out so many great defensive backs every year…We just had a defensive back, Josh Jackson, that went early second round when a lot of people projected him to go first round, because of the way he contributed to the team this past fall and how he carried himself as a young man. Iowa really develops great young men. They want you to succeed as a young man more than on the football field. ...

It's really great to be somewhere where so many defensive backs do get out. I can't wait for the opportunity, if it happens, to get my name called one day. I know I have a long way to go maturing and learning the game of football more, but it's exciting."
Ojemudia and Hankins will get first crack this fall. Should they slip, Creamer will be waiting.
As will Josh Turner, who also redshirted last season.  A three-star recruit, he chose Iowa over Purdue, USF, UCF, Wisconsin and a gang of other programs. He didn't arrive with the fanfare of Creamer, but he was another solid recruit in the class of 2017. We can't tell you what he looks like, because he's literally never played a down of football for the Hawkeyes, but he'll have his opportunity to get some playing time this fall with all the youth around him.
They Were only Freshmen

D.J. JOHNSON (Freshman, 6'0, 170 lbs., North Central, Indianapolis, IN)
KAEVON MERRIWEATHER (Freshman, 6'2, 195 lbs., Belleville, Belleville, MI)
TERRY ROBERTS (Freshman, 5'10, 171 lbs., Cathedral Prep, Erie, PA)
Taking Dallas Craddieth and Julius Brents into account, Iowa's 2018 defensive back class was one of the best in the Big Ten. D.J. (aka Donald) Johnson was a four-star recruit that chose Iowa over the likes of Notre Dame, Duke, Illinois, Indiana, Purdue, Syracuse, among others. He was the 27th best cornerback in the country and graduated from North Central High in Indianapolis. One thing that stuck out to us following his commitment was his tackling ability, which means that we'll see him sooner rather than later.
Roberts was a three-star recruit with a light offer list, but grew up and trained with two great Pennsylvania defensive backs: Bob Sanders and Jovon Johnson. Merriweather didn't even have a Rivals page when he committed (he does now!) but he was personally evaluated and recruited by Phil Parker, telling me that there's something more to him than just a two-star guy who didn't have an iota of recruiting buzz when he signed.
These three freshmen round out a unit that doesn't have a single upperclassman on the roster (ED NOTE: Whoops, forgot Ojemudia was a junior). The experience is limited. But the talent and youth are abundant.