Lumberhawk
---
Kansasville, Wisconsin (via Wall Lake, Iowa)
MEMBER SINCE April 14, 2017
Favorites
NFL TEAM: Vikings
MLB TEAM: Cubs
Recent Activity
Copy/paste this for Tuesday. Just change Ohio to Michigan. Thanks in advance!
Best game of the season for Evelyn
XFL update: James Butler 1 yard TD run for Houston Roughnecks. Lambo Leaped all the way I to the stands afterward.
Gotta be honest, I had absolutely no hope of a comeback after they hit the 2nd 3 to go up 8 with around 5 to play. We only hit 3 3s all game, one each from Toussaint, Evelyn, and McCaffery. And shot just over 50% from the line. Only 2 points out of Weiskamp and scored +20 points under the season average. But somehow still eeked out a win. Incredibly stressful, but happy to be tied for third in the conference. Really gutsy effort from these guys all season long and especially today.
Wow. What a tough one to win. Thank goodness!
What do we have to do to get Stephen Bardo to call our games again?
Fuck the whole state of Indiana.
Indiana shooting out of their ass
Iowa's best 3 point shooter out with injury
Iowa down to 6 scholarship players
Home cooking in the B1G is alive
Pretty much the worst case scenario.
Also, Chuck Long is offensive Coordinator and QB coach for St. Louis Battlehawks. Playing Dallas right now.
Watching the Marinelli & Stickly story on BTN again and it suddenly my house got really dusty...

Interesting to see Wilcke get the nod over Assad tonight.
Well in case anyone sees this later, evidently wadley was waved a month ago. After browsing thru the rosters of the 8 teams, Butler was the only former hawk that I saw. And obviously Bob Stoops is coaching the Dallas Renegades.
While I wait for this game, I'm watching some XFL. Interesting to see James Butler and Akrum Wadley on the same team. I wonder how many former hawks are in this league.
Shouldn't expect it, but I do remember Iowa coming back from 25 to force overtime last year.
Just need to hold them to their season average and we might have a shot. So no more than 6 points in the 2nd half.
Got a little spicy at the end there. Looking forward to post game presser.
What ever happened to home cooking? This is nauseating.
Sorry, I just realized you were talking about a different foul. I distinctly remembered Garza's 4th foul right under the 8 minute mark because they showed the replay after the commercial break. I went back and re-watched it to confirm/ torture myself. It was like that old clip of the soccer player who hits himself in the face with his opponent's hand. I think Garza's 3rd foul was the double foul called. You are probably right that they didn't show the replay of the 3rd foul.
https://giphy.com/gifs/garza-Tk83d0qDESkclSjvCe
https://www.youtube.com/watch?v=iHsg6Bb02L4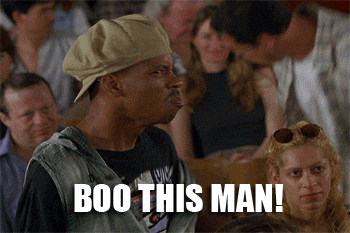 In a weird way, Garza's foul trouble didn't affect his offensive output as much as it seemed during the game. He still finished with 21 points, just 2 shy of his season average. But it did affect how the rest of the Iowa offense operated. Without him down in the post for long stretches of the game, Maryland was able to extend their defense out further. Less help needed on defense down low lead to less open kickout 3's (missed quite a few when they did have them) and more rushed shots at the end of the clock. Really hurt that Garza wasn't able to draw a shooting foul all night (actually, I think he got one finally with a minute left in the game). Whether that is a testament of the officiating or how well Maryland played him defensively, it wasn't something we are accustomed to. Playing a good team like Maryland in a tough environment like College Park means you need to play at an elevated level with limited errors. Unfortunately, Iowa was unable to, and Maryland played better. My hope is that it keeps a chip on their shoulders, and they bounce back against Illinois.