College GameDay is headed to Ames, Iowa this weekend for the first time in the history of the show and people around the country are having a good laugh. They have been saying some very rude things about the city, calling it things like LAMEs, Iowa and it is getting out of hand. Ames is one of America's most underrated cities and it is a shame that more people don't give it the respect it deserves. So I am here to shut those people up by showing you all the TOP 5 BEST PLACES TO GO if you are in Ames for the game this weekend. Let me tell you, picking only five was tough!
5. Furman Aquatic Center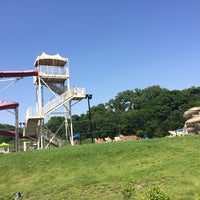 When you need to beat the Iowa heat there is no better place to do it at than the Furman Aquatic Center. Featuring a tube slide and a water playground, no one would blame you if you skipped the Iowa vs Iowa State football game and just hung out at the pool all day! After battling through a lifeguard shortage and a number of cracks and broken glass in the pool, the center has come back stronger than ever, becoming TripAdvisor's #4 destination in the city.  Be sure to keep your eyes open as Iowa State football legend Steele Jantz can frequently be spotted floating around in the Lazy River!
4. Perfect Games Indoor Amusement Center WITH Pizzeria
Rated 4.5 stars out of 5 on TripAdvisor, this fun center located in the west Ames is the perfect place for some good, clean fun. Voted the #1 spot in Ames for wedding receptions seven years in a row, this establishment has something for everyone. Laser Tag for the kids, Putt-Putt golf for the athletes, bowling for grandma and grandpa, and video games for the teens. Don't forget to grab a slice of pizza before you leave as Perfect Games is known for having the world's most perfect thin crust pizza!
3. Petco
While Ames doesn't have a zoo that you can visit, the local PETCO has just as many animals and it is FREE. The locals will tell you that the best time to visit is right when the store opens, as this is often when people bring in their dogs to get them groomed. Other activities include petting the cats, feeding the ferrets, helping clean the fish tanks, and watching hamsters run on wheels. Rumor has it that the parakeets and cockatiels are trained to sing along when they hear the Iowa State fight song, feel free to sing it as loud as you can when you walk in to see if it works!
2. Family Video
Before traveling to Ames, visitors should be aware that the city does not have the internet. Shocking, I know. If the thought of not being able to watch Netflix or Hulu scares you, don't worry, Family Video has you covered! This blast from the past store has over 120 movies that you can rent and watch at your hotel on a DVD or VHS player. Some of their most rented movies include classics like "The Zookeeper's Wife" and "Twister." Be sure to return your movies before you leave town, those late fees can get out of hand quickly!
1. World's Largest Concrete Gnome
Looking for a way to avoid the ESPN GameDay crowds Saturday morning while still having a good time? Well, you are in luck! Located within walking distance of Jack Trice Stadium is the world's largest concrete gnome. Described on the internet as "really big" and "awesome," Elwood the garden gnome stands at an astonishing 15 feet tall. Approximately 30,000 people make the pilgrimage to visit the gnome every year, more than double the number of people that will attend ISU football games this season, whoa!
While many people will say that the world's largest ball of twine in Cawker City, Kansas is a better attraction, Elwood takes the cake in our book as the best random oversized object.
Have you been to these places in Ames or have other ideas? Let us know what you think in the comments!